Tuburan, a municipality in the northern part of Cebu, received several sub-projects from the volunteers of the Kapit-Bisig Laban sa Kahirapan Comprehensive and Integrated Delivery of Social Services (KALAHI-CIDSS), in which the recipient operations and maintenance groups are responsible for maintaining its functionality and sustainability for long-term use.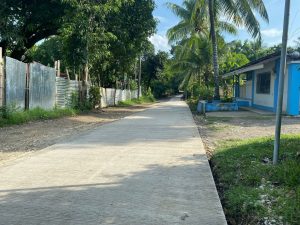 A community-driven development program of DSWD, KALAHI-CIDSS, delivered the 0.325 km access road at Sitio Crusher, Barangay Cogon, worth Php 1.4 million during a turnover ceremony on February 02, 2023.
This and all other 53 sub-projects are completed under Phase 1 of Additional Financing, which aims to respond to the call of poor municipalities on their priority needs and be funded for a physical project. In return, volunteers will work on it through a series of community organizing and grassroots activities, capacitating them to become active and empowered citizens.
Hence, KALAHI-CIDSS investment in Tuburan worth Php 20 million was funded in projects such as conversion of existing infrastructures into isolation facilities, improvement of health centers, concreting of access roads, construction of training centers, and installation of water lines, water tanks, and street lights.
These are the most common needs that their communities desire to receive from the government. The role of DSWD, through the KALAHI-CIDSS program, is not to duplicate existing development projects such as infrastructure but rather to fill the gap in areas where development seems to be lacking.
With 54 completed projects from DSWD KALAHI-CIDSS, the pressure is set upon the operations and maintenance (O&M) groups to sustain and upkeep these projects and effectively provide services to the community as planned.
"These groups, either organized into associations or committees formed by barangay local government units, are trained to keep these projects operational and provide maintenance according to their formulated plans," said KALAHI-CIDSS Area Coordinator for Tuburan, Divino Bernabe.
The local government unit of Tuburan, as part of their signed agreement with the KALAHI-CIDSS program, must provide funds for the operationalization of these projects, such as maintenance, upkeep, and sustainability evaluation, for further use.
Municipal Planning and Development Coordinator of Tuburan, Ma. Jasmine P. Sombelon, encourages volunteer groups to brace themselves for the responsibility of maintaining the projects for good use. "Wala nagpasabot nga nahuman ang mga proyekto, nahuman na sad ang inyong trabaho. Apan ang challenge nato now is to make these more functional, sustainable, ug palabwan pa nato nga mas mo-nindot pa unta kining mga proyekto (It doesn't mean that the projects are finished, so your work is done. The challenge now is how to make these more functional and sustainable, and we can go as far as making these projects even more beautiful)," the official said.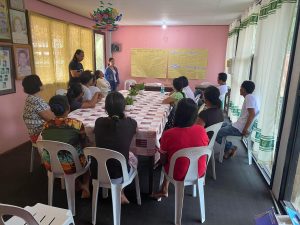 Meanwhile, DSWD-7 Assistant Regional Director for Operations Juanito C. Cantero, who led the turnover of the completed project in Brgy. Cogon cites the importance of community-driven development. "Kining proyekto, produkto sa partisipasyon ug pagtinabangay sa atong mga boluntir. Busa atong hatagan og bili ang ilang paningkamot ug tinguha nga mas masabtan pa sa daghang katawhan ang tuyo ug tumong sa programang KALAHI-CIDSS (This project is a product of the participation and cooperation of our community volunteers. So let's give value to their efforts and hope that we make more people understand the true intentions and goals of the KALAHI-CIDSS program)," Cantero said.
With the humongous task of keeping these projects functional and sustainable in order for people in Tuburan to access them in the community, DSWD is hopeful that this town will foster what was already in place: well-capacitated operations and maintenance groups.
KALAHI-CIDSS, despite being hurled with different challenges during the implementation, is hopeful that through these completed sub-projects of its community volunteers, more people in Tuburan will understand that the program does not overshadow the efforts being done by other agencies but rather mobilizes ordinary people to identify and directly implement community projects that they truly need.
For another round of implementation that will run for six months, KALAHI-CIDSS is set to complete a farmer's market, the construction of training centers, and the improvement of existing multi-purpose buildings, as well as a water system to be set up in the town's northern part to ensure communities in the highlands get clean and potable water. ###
(54) Views