Dear Colleagues:
Happy New Year and warmest greetings as we begin 2018!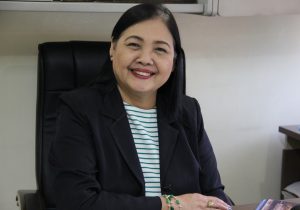 Before we get too engrossed with work, I want to take this opportunity to extend my heartfelt appreciation for your accomplishments and achievements for last year. 2017 has been a great year as far as achieving our targets are concerned. I thank one and all for your support and dedication and for the extra hours that you worked to achieve our goals and deliver our commitments.
Last December 2017, the undersigned delivered two State of the Region Addresses (SORAs). One was read by SWO V Grace Subong at Ayala Mall and the second one, I personally made on air during the year-end Kapihan sponsored by the PIA. Said report contained specific accomplishments for 2017 and these were received gladly by our partners and stakeholders. Our publics appreciated our candidness and transparency in all our dealings.
Looking back, 2017 was a year of unpredictable changes, starting with the non-confirmation of Sec. Judy by the Committee on Appointment, the installation of an OIC-Secretary, the issuance of moratoriums on program guidelines which we have been following these past many years, among others.
At the regional level, we have seen the movement of the stewards of the Protective Service and of the centers and institution and with the dissolution of the Negros Island Region (NIR), the coming back of many of our former colleagues headed by Assistant Director Shalaine Marie Lucero.
We have the same projects lined up for this year but with a much bigger budget and I am sure, with your dedication and determination we will be able to complete those also on time. I thank you all for your support and hope this relationship continues and we achieve success together.
Our Vision and Challenges
In line with Ambisyon Natin 2040, our long-term vision remains unchanged— "all Filipinos free from hunger and poverty, have equal access to opportunities, enabled by a fair, just, and peaceful society".
Our main challenges also remain unchanged from last year:
The need to fast track the implementation of our Sustainable Livelihood Program (SLP) while at the same time ensuring that assessment and documentation is properly done;
Improving our customer/client service at our CIU so that individuals in crisis get instant relief;
100% fund utilization as well as ensuring that funds transferred to LGUs are liquidated on time;
Improving our buildings and facilities so as to provide a better working condition for the staff and a relaxing environment for clients;
Passing on technical skills to younger personnel to ensure that quality of service is maintained;
Being able to provide quick augmentation in terms of food packs to areas all over the country hit by calamities; and
Finding a lot where we can build a permanent VDRC.
Looking Forward
This year, we will focus on the following essential measures:
First, we will finish the upgrading of our centers and institutions. We have invested 51M in 2017 for the improvement of our 5 centers and institutions but considering the more than a decade without capital outlay, much still needs to be done. Despite being unfinished, I expect these investments to start bearing fruit, starting with the improvement of its accreditation level from Level 1 to level 3.
For the Field Office, we need make use of technologies now available for a much better document tracking and records keeping. Let us pay attention to the findings and implement the recommendations which the Exigent Committee, led by Usec. Milo, gave us on the last quarter of 2017. This is one of our most urgent tasks as this involves not just the comfort of staff and clients but more importantly, their safety.
Second, we will maximize production of our VDRC and continue to advocate for more LGUs to provide us with appropriate warehouses where we can store and pre-position goods ready for any calamity. We need also to work on finding a lot where the VDRC can be relocated permanently. With the completion of SWAD office in Bohol with its own warehouse, we can stop renting and instead use same budget to buy more stocks ready for the Boholanos to use when needed. We also need to start working with the Provincial Governments of Negros Oriental and Siquijor for a lot donation so we can build our own SWAD offices with warehouses on that side of the region.
Related to the services of VDRC to the regions all over the country, we need to have a cargo forwarder that we can call anytime. It is difficult and sometimes, more costly when we do emergency procurement. We also have to remember that time is of the essence when people are hungry.
Third, we will strengthen efforts to ensure that our clients as well as other stakeholders recognize the true value of our services. We cannot be reactive, so we need to continue communicating with clients and stakeholders more effectively and leveraging the understanding that comes from their trust in us.
Under this we need to regularly review our Citizen's charter and make it more client-friendly. Our Social Marketing and Planning Units must be able to realize the publication of our quarterly, if not, semestral accomplishment reports. Further, our SMU in coordination with the Institutional Development Division and the program focal persons must be able to document more success stories this year.
We are entrusted with more funds under the SLP this year. It is not enough that we will utilize all these but equally important is that, our different modalities will become the way for our clients to earn a better income to improve their living conditions.
For our Crisis Intervention Unit staff, more than the financial assistance, we need to show more compassion to all the distressed persons coming our way. Same applies for the clients flocking our SWAD offices in Bohol, Negros Oriental and Siquijor.
Likewise, we need to strengthen convergence not only at the M/CAT level but also between and among the different units at the Field Office. We must also not neglect our participation in the different Inter-agency committees as they have been instrumental in meeting our targets.
Fourth, we will transfer skills and technologies to our younger colleagues, including measures that take advantage of information technology. In the light of the massive generational shift in our workforce, we must continue accelerating efforts to nurture younger employees. We crafted a reorganizational plan for the department last year. Your regional director was one of the two RDs commissioned by then Sec. Judy to be a member of the Management Reorganization Team (MRT). We are looking forward to the implementation of the plan since OIC-Sec. Leyco said he is in favor of it.
Lastly, in consonance with the marching order to utilize 100% of our budget, our focal persons must not wait for the last quarter to do their activities. Let us start as early as now so that our colleagues at the Finance Unit, the BAC and the BAC Secretariat and the Procurement Unit will also be able to taste the relaxed and unharrassed mode at the end of the year.
Let us not forget that the funds we have transferred and/or will be transferring to our LGU partners is still our responsibility. Unliquidated funds mean that we cannot anymore download to the concerned LGU so that delivery of services to our targeted clientele will be affected. Let us work together to ensure that we will not short change our clients this year.
We must make maximum effort to secure continued growth on the basis of these five key initiatives, as well as other measures which I believe will respond to the seven challenges I have outlined earlier.
Closing Remarks 
This year will bring its own challenges so that as we do our work,
1) Always remember the tenets of the DSWD Spirit: Respect for Human Dignity, Integrity and Service Excellence. Kailangan nating magbigay ng maagap at mapagkalingang serbisyo, serbisyong walang puwang sa katiwalian at patas na pagtrato sa komunidad.
When working, please always bear in mind the essence of your work: Why the task needs to be done, or why the rules must be followed. Such essence must not be lost in exchange for work efficiency.
In addition, I call on you to create and implement strategies that will discourage dishonesty among members. If you remain committed to your work to live up to the DSWD Spirit, it follows that you will ensure legal compliance and avoid disallowances and law suits.
2) Prepare Thoroughly Towards Achieving Your Goals
When you take on a new challenge, please be sure that you prepare thoroughly for the challenge with well-planned schedules, systematized steps, and strategic risk management plans. This means that you must not rush to a solution nor be influenced by your mood. Whether it is an individual task or an organizational project, appropriate management of the objectives is indispensable.
In reality, however, it would be quite unusual to see everything go as well as planned. Even when you face unexpected risks, please stay calm, gather information, identify the situation objectively, and make efforts to find the optimum solution in a speedy manner.
3) Lastly, I wish for all of you to take care of your health and to gain success in many areas. More than anything, let us be cheerful and enjoy work. Great ideas and good performance do not come from a smile-less and gloomy workplace. Let's create a workplace filled with smiles and vigor, and with a healthy amount of pressure.
Wishing you and your families another healthy and successful year. GOD bless everyone!!!
MA. EVELYN B. MACAPOBRE, CESO III                                                                                                                         Director IV

Hits: 7244