Over the years, San Remigio, Cebu, a third-class municipality, has been a long-time partner and recipient of many DSWD KALAHI-CIDSS sub-projects. Taking the development of its town communities into account, the LGU has partnered with DSWD and strongly supported the program's implementation with the active participation of its people.
Through the partnership with Kapit-Bisig Laban sa Kahirapan Comprehensive and Integrated Delivery of Social Services (KALAHI-CIDSS), a community empowerment program, communities in San Remigio, Cebu, envision a development where volunteer's projects will respond to the identified needs of its people.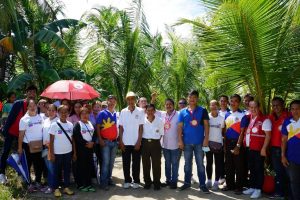 On November 13, 2022, residents of barangays San Miguel and Bagtic converged in their respective communities to witness the turnover of their farm-to-market roads sub-projects. On the same day, barangay Batad community members also joined the turnover of a rehabilitated barangay health station. The local government of San Remigio formally accepted these sub-projects as a result of their partnership with the program.
Luzviminda Romero, a volunteer for the Project Preparation Team and president of a people's organization in San Miguel, showed how the program has truly changed the way people think in her community. "Sukad sa pagsugod sa KALAHI-CIDSS dinhi sa among lungsod, nagsugod pud akoang pag-boluntir. Kung wala ko mahimong boluntir, wala usab koy makat-onan pinaagi sa mga trainings ug seminar nga gihatag sa programa. Hangtod naa ang KALAHI sa among barangay, mo-boluntir gihapon ko kay ang kalamboan sa barangay, mao ang kalamboan sa tibuok sa San Remigio! (I have been volunteering since the beginning of KALAHI-CIDSS in our town. If I had not become a volunteer, I would not have learned anything through the training and seminars provided by the program. As long as there is KALAHI-CIDSS in our barangay, I will still volunteer because the development of our community is the development of our town!), Romero enthused.
Recognized people's organizations, such as her group of health workers and others like the Barangay Health Emergency Response Teams (BHERTs) in Bagtic and the farmer's association in Batad, will be the responsible groups to upkeep the completed sub-projects.
As the town enters a new era of leadership, LGU San Remigio will continue to live the gains and principles of community-driven development (CDD), aiming to capitalize more on the abundance of their natural resources in the hopes that it will attract investments.
During the ceremony, newly-elected local chief executive Alfonso S. Pestolante expressed his admiration for the KALAHI-CIDSS and emphasized the importance of the sustainability of the completed sub-projects. "Actually, KALAHI-CIDSS has been present here in our town for several years already. With these additional projects received, we want to keep them functional by allocating funds, perhaps a standby fund every year, for training and supporting the communities in the operationalization of projects so that more people can benefit from them," he said.
DSWD-7 Assistant Regional Director for Operations Juanito C. Cantero, during the turnover, encouraged both local officials and volunteers to support the partnership so that more people can benefit from sustainable and functional community projects.
San Remigio's vision for development led to a partnership with the KALAHI-CIDSS, which is seen as an effective strategy for active citizenry where communities and people's organizations can take part in the development fit for their needs. ###
(17) Views