The coastal town of Samboan in the province of Cebu teamed up with the Department of Social Welfare and Development (DSWD) to come up with a set of sub-projects that respond to public health concerns.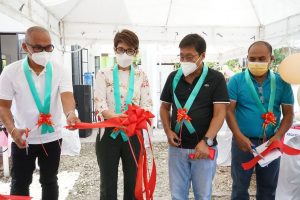 Through the community grants from one of its programs, Kapit-Bisig Laban sa Kahirapan Comprehensive and Integrated Delivery of Social Services (KALAHI-CIDSS), Samboan received a total of Php 15.6 million to fund their identified priority needs, from isolation facilities, health stations, communication devices, to medical equipment.
During the pandemic, community healthcare providers at the grassroots level, like the Barangay Health Workers (BHWs) and Barangay Health Emergency Response Teams (BHERTs), are at the frontlines in taking care of patients and preventing the spread of COVID-19 despite the meager amount of resources.
With the pandemic not going away anytime soon, small communities like Samboan will need to strengthen their health services to focus on prevention and proactively respond to community diseases. With sub-projects funded by KALAHI-CIDSS, Samboan may have the opportunity to improve the quality of basic medical care.
As the new administration of Samboan comes in, with a physician leading the town's executive decisions, public health services will be directed to care for the vulnerable.
Mayor-elect Dr. Emelito S. Calderon, Jr. vows to prioritize health services by augmenting the available resources they have received from the program. "Akong nakita sa panahon sa pandemya nga minus ang among kahimanan sa pagtubag sa dakong hagit nga gidala sa COVID-19. Mao nga nangandoy ko nga tanang barangay adunay health station aron mas mapaduol ang serbisyo medikal ngadto sa katawhan (I have witnessed how limited we are in responding the challenges brought by COVID-19. That is why I wish that all barangays would have their own health stations to bring medical services closer to the people)," said Calderon.
"We hope that, through the Operations and Maintenance Team, the usability of this project will be taken care of so that more people will have access to it. They deserve to be healthy and free from worries, especially the vulnerable children," said DSWD-7 Assistant Regional Director Shalaine Marie S. Lucero during the turnover of the health station in Brgy. Suba.
To date, Samboan has received a total of 6 COVID-19-related sub-projects from the program since 2021. ###
(79) Views