The Department of Social Welfare and Development's (DSWD) Kapit-Bisig Laban sa Kahirapan Comprehensive and Integrated Delivery of Social Services (Kalahi-CIDSS) recently paid a visit to Dalaguete, Cebu on September 3, 2020.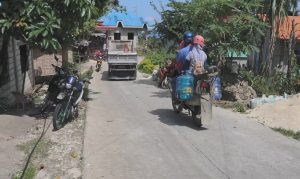 The Kalahi-CIDSS and the Municipality of Dalaguete have been in partners for four (4) years in implementing the Community-Driven Development (CDD) approach and training its communities to adopt the program's principles of participatory, in collective and demand-driven process through localized decision-making during social prioritization.
Rosalia Amahan, a resident of Barangay Jolomaynon and a former community volunteer emotionally expressed her gratitude to Kalahi-CIDSS for the sub-projects implemented in her barangay.
She also shared that before the implementation of sub-projects in their barangay, traveling was difficult due to the rocky and slippery road that made the residents relatively inaccessible and prone to accidents.
Mayor Jeffrey Belciña said that Kalahi-CIDSS already gave 79.8 million worth of sub projects and capability building in four (4) years.
Belciña added that when Kalahi-CIDSS started in Dalaguete, he was the Vice Mayor and he saw the program's contribution to the town's development, especially with the construction of access roads in mountain barangays where most of the livelihood of Dalagueteanons are located.
During his term as Mayor of Dalaguete, he decided to continue the CDD approach so that in the future, they can build more projects and at the same time help the community, using the CDD principle.
In line with this, the LGU allocated a 10 million budget for CDD implementation for all 33 barangays.
"Mapasalamaton ug malipayon kaayo ko sa tabang sa Kalahi-CIDSS maong ni-ana ko nga ipadayon ang CDD approach labi na nga ako na ang Mayor, kay gani katong panahon nga Vice Mayor pako nipasar gani mi og ordinansa kalabot sa pagsuporta nga ma institutionalize ang maong programa dinhi sa amoa katong panahon pa ni kanhi Mayor Ronnie Sesante," Mayor Jeffrey Belciña said. ###
(72) Views