The local government of Cortes, Bohol continues to implement the Community-Driven Development (CDD) approach of Kapit Bisig Laban sa Kahirapan Community and Integrated Delivery of Social Services (Kalahi-CIDSS) program of the Department of Social Welfare and Development (DSWD).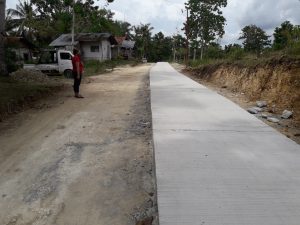 The CDD approach ensures the development priorities are addressed in a participatory, collective, inclusive and in demand-driven way through localized decision-making during social preparation activities, and in the identification, development, prioritization, and operationalization of community projects.
Mayor Lynn Iven Lim said that Kalahi-CIDSS started in the municipality in 2015 with five (5) barangays, namely San Roque, Malayo Norte, Lourdes, New Lourdes, and Loreto. These barangays were the first to receive funding for their proposed sub projects.
For four (4) years, LGU Cortes has acquired almost P23 million worth of sub-projects and capability building from Kalahi-CIDSS for its 14 barangays.
Mayor Lim shared that Kalahi-CIDSS helped Cortes maximized its development funds where P22.9 million of it was given as local counterpart contribution (LCC) to the Kalahi-CIDSS projects implemented in the 14 barangays.
"Maayo kayo ang Kalahi tungod kay ang budget sa lungsod nagamit gyud ug naapud-apud sa tanang barangay labi na sa mga infrastructure projects. Dako-dako gyud hinuon ang na accomplish sa Kalahi diri sa Cortes," Mayor Lim said.
Lim added that most of the sub-projects funded in Cortes were construction of daycare centers, barangay access roads, street lighting, solar drier, and school buildings.
When Kalahi-CIDSS ended in 2019, Mayor Lim decided to continue the program because he saw its benefits to his town. Lim decided to continue the practice of CDD approach in the projects initiated by LGU Cortes especially that the residents have learned and have gained knowledge about the CDD way in implementing projects from their participation in the program. With this Kalahi-CIDSS experience of LGU Cortes, Mayor Lim decided to establish a CDD office that will oversee and manage the CDD projects of the town.
In 2020, LGU Cortes has allocated P14.6 million for its CDD projects implementation.
Currently, LGU Cortes has ongoing road concreating projects in barangays Salvador, Rosario, and Upper Dela Paz worth P1.5 million each. These projects are included in the P14.6 million. ###
(103) Views