"Natuman ang among mga damgo tungod sa Kalahi-CIDSS (Our dreams have come true because of Kalahi-CIDSS)," these are the words of Olive Canales, a Barangay Development Council Technical Working Group (BDC-TWG) during the turn-over ceremony of the 700-meter access road in Brgy. Maharuhay, Medellin, Cebu.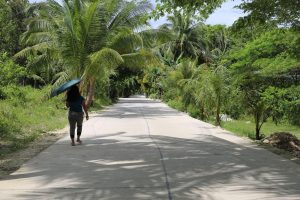 Witnessing the implementation of the sub-project is the biggest dream they have seen come to life, shared Narcissus Osabel, Jr., the barangay captain of Brgy Maharuhay. "Sa bata pako nag agi gyud ko dinhi, nakasulay gyud ko unsa ni kalisod nga agianan, maglakaw rami diri padung sa eskwelahan ug padung uli sa balay. Kadaghan sad mahitabo nga dili madayon ug sud sa klase tungod kay danlog kaayo ang karsada ilabi na panahon sa ting-uwan (When I was a kid, I experienced how difficult this was before. I walked along this road going to school and going home. There were times when we were not able to go to school because it was impossible for us to walk and the road was so muddy and slippery, especially when it rains)."
"Usa ko nga bation og kahadlok ig padung sa akong anak sa eskwelehan, kay daghan na gyud na disgrasya sa dalan, naa pay mga maestra napangos kay natuwad ang motor (I would be scared when my son goes to school because there are so many accidents on the road; there were also teachers who were injured when the motorcycle lost balance)," shared Rosalyn Moralde, a community volunteer.
"Ang among mga prutas nga itinda sa merkado, mabarato na tungod kay malata man tungod sa sigeg ka busdak tungod sa agianan (Our fruits that are sold in the market will be sold at a low price because they are rotten due to the uneven surface of the road)," narrates Canales. She added that the residents worry not only about their safety but also about their livelihood when their products will no longer be sold at a reasonable price.
They have shared the same sentiments for many years: they fear for everyone's safety every day. The residents, children, the sick, and elderly people have patiently endured the roughness of their roads, especially during rainy days when accidents usually happen.
Today, the road is smooth and safe; this gives a face to our barangay. We were extremely happy because we saw our achievement, and our road is hazard-free, shared Rosalyn Moralde, a community volunteer. "Nalipay gyud kaau mi nakita namo ang among gihaguan, og ma hapsay na ang among pag-agi (We were very happy because we saw our achievement, and our road is hazard-free)," shared Rosalyn Moralde, a community volunteer.
The residents and the community volunteers could not contain their gratitude for the program during the inauguration of the 700-meter access road. One of the community volunteers shared struggles during the implementation and how they got the community's full support because they had experienced how difficult the road was before.
Barangay Captain Osabel expressed his hope that, with the safe road, Barangay Maharuhay will be recognized as a tourist destination leading to the barangay's viewing deck, from which Leyte and neighboring provinces can be seen.
"Dako kaayo ni nga gasa sa among barangay, ang Kalahi-CIDSS naghatag gyud ug nawng sa Barangay Maharuhay (This is a blessing for our barangay. Kalahi-CIDSS has given face to our Barangay)," exclaimed Brgy. Captain Osabel. He added that if Kalahi-CIDSS still gives them funds, they are still willing to volunteer and will give their 100% support and cooperation. Being funded by the Kalahi-CIDSS program could mean more improvement for their barangay. For the community, the road is the first of many dreams to come true.
The P7.5 M access road is funded by DSWD Kapit-Bisig Laban sa Kahirapan-Comprehensive and Integrated Delivery of Social Services under the KKB (DSWD Kalahi-CIDSS KKB). ###
(16) Views