The Department of Social Welfare and Development (DSWD) Field Office 7, through the Kapit-Bisig Laban sa Kahirapan—Comprehensive and Integrated Delivery of Social Services (KALAHI-CIDSS) program, has conducted a social marketing workshop and community-driven development (CDD) institutionalization orientation at the One Central Hotel in Cebu City on November 14–15, 2023.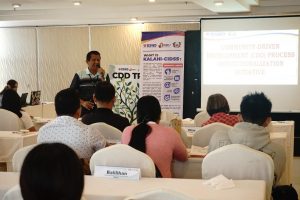 The two-day workshop revolves around the importance of social marketing in the KALAHI-CIDSS implementation, including its context and methodologies in advocating the program, advocacy planning for the community-driven development technology, and its gains in the program areas. The event also includes demonstration learning through hands-on activities or workshops.
LGU information officers, advocacy in-charge, and community volunteers from KALAHI-CIDSS Group 4 areas, particularly Bohol and Cebu, attended the activity.
The Department conducted the activity as it recognizes the need to equip information officers and volunteers to promote the program's advocacies in the local government units (LGUs) by using social media platforms and tools in the KALAHI-CIDSS context.
Resource persons Ms. Ma. Patricia Jaqulimo discussed the basics of social marketing; Mr. Gem Cañada talked about mobile photography and tips for writing social media captions. He also conducted a workshop on photo-taking and assessment of participants' outputs.
Meanwhile, Mr. Allan Quitoriano, DSWD 7 Community Development Officer III, discussed the road to institutionalizing CDD (process and status), how to advocate and explain CDD to volunteers and ordinary citizens, and how to promote it in their localities.
Ms. Mary Grace Fernandez, KALAHI-CIDSS social marketing officer, discussed the program's social marketing tools and encouraged the training participants to share photos and videos if the information officers could not physically cover the KALAHI-CIDSS activities.
The participants described the workshop as informative and expressed their gratitude as they could apply their acquired skills to document the implementation of KALAHI-CIDSS and other DSWD programs in their local government units. ###
(35) Views