With the recent turnover of five (5) community projects in the municipality of Argao in Cebu, the Department of Social Welfare and Development's Kapit-Bisig Laban sa Kahirapan Comprehensive and Integrated Delivery of Social Services (KALAHI-CIDSS) has successfully completed a total of 44 out of 45 sub-projects that will help improve their delivery of basic social services.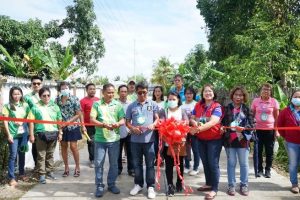 KALAHI-CIDSS uses the community-driven development approach, where communities are given the opportunity to voice out what they think are their priority needs. In return, trained volunteers will help in the implementation of the sub-projects through the program's capacity-building efforts.
In fact, the CDD approach in Argao resulted in the delivery of 20 concrete access roads and 7 tire paths; the rehabilitation of 2 barangay halls, 3 health stations, 3 multi-purpose buildings, and 1 satellite market; the installation of 87 solar street lights in 3 barangays; the construction of 2 isolation facilities; the electrification of a water pump; and the construction of a footbridge that is yet to be completed by the end of March 2023.
All these are identified by the 45 barangay communities, either affected by Typhoon Odette that hit the town in 2021 or the ongoing response to the COVID-19 pandemic. These are funded under the KALAHI-CIDSS NCDDP Additional Financing with a Php 20 million grant from DSWD and a Php 5.3 million counterpart contribution from the LGU.
"KALAHI-CIDSS really saw the need of our communities in terms of roads. They acted on it through a series of consultations with municipal and barangay officials, as well as community members. This is what community-driven means: responding to urgent needs while consulting on how to do it effectively," explained municipal administrator Engr. Randel Jayme, citing roads as the town's top priority.
He further explained that there are a huge number of requests for road construction and that they cannot accommodate all. "We have so much to do, but since we only have very limited resources, KALAHI-CIDSS was generous enough to give what they could in order to help Argao in development," he enthused.
Now that the sub-projects have been delivered, the town finally has easier access to fundamental social services. Farmers will find it easy to bring their goods to market, which benefits the locals with the fair trade prices that result from the simplicity of logistics and transportation.
In order to realize these projects, around 500 community volunteers from different barangays were mobilized and capacitated through a series of activities. Their presence is one effective key indicator of the return on investment poured in by DSWD into its partner municipalities.
Maribeth A. Cabalda, who heads the capability-building sector of KALAHI-CIDSS, led the turnover ceremonies in Lamacan, Capio-an, Jampang, Mandilikit, and Sua. She reminded the community of the recognition due to the volunteers. "Through their participation in the program, you now have people in place who know the process of community-driven development. With this culmination, DSWD hopes that these volunteers will be mobilized once there is a need to implement a project that follows the principles of participatory, accountability, and transparency, similar to that of KALAHI-CIDSS," she said.
By reminding them of these principles, KALAHI-CIDSS has amplified its advocacy for helping local officials practice good governance. Punong Barangay Modesto G. Villacruel of Lamacan shares how this program of the DSWD influenced the way he thinks about projects implemented by government agencies.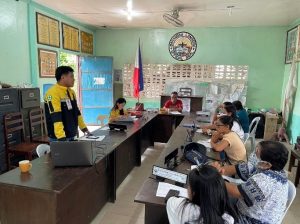 "Sa una, kusog kaayo ko mo-kwestyon sa DSWD apan sukad nahimo kong opisyal, nasabtan nako ang importansya sa pag-apil sa mga kalihokan niini. Mas napalawman pa kini sukad ning-abot ang KALAHI-CIDSS kay gihatagan og tingog ug adunay katungod ang katawhan nga mahimong parte sa kaayohan sa komunidad (Initially, I had serious doubts about the DSWD, but since I became a public official, I have understood and appreciated the value of taking part in its initiatives. It deepened even more when KALAHI-CIDSS came into our community because the people were given a voice and the right to decide for the welfare of our community)," he said, adding that transparency of the process and accountability of their resources were in place all throughout the implementation.
The town of Argao is a testament to the fact that, through the effective use of this strategy, programs such as KALAHI-CIDSS can help many poor communities in target areas access basic social services by providing an equitable distribution of resources and capacity for both local officials and community members towards a fair society.
More than the tangible projects it brings, the principles that the KALAHI-CIDSS have been pushing for many years have made community-driven a staple tool for development. As the punong barangay of Lamacan said, "Mag-KALAHI sa serbisyo, mag-KALAHI ang tanan!" ###
(116) Views