Exemplary community volunteers of Kapit-Bisig Laban sa Kahirapan Comprehensive and Integrated Delivery of Social Services (KALAHI-CIDSS) Region 7 join the national community volunteers' congress in Quezon City from December 12 to 14, 2022 with the theme "Ugnayan," or connection, that aims to create a network of community volunteers from other regions in the country.
Four (4) participants from Central Visayas were selected to be the representatives of the region and they were Lucil Dinampo of Samboan and Mary Jean Ople of Asturias who represented Cebu province; Gina Felisilda of Anda for Bohol province; and Annabelle Banlat of Zamboanguita for Negros Oriental province.
During the 3-day congress, they went through a series of creative workshops to share their stories and experiences with other community volunteers while learning from each other on how the Community-Driven Development (CDD) approach used by the KALAHI-CIDSS have given their communities access to transformative activities leading to social development.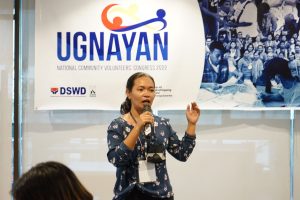 Through freehand drawing, they were able to creatively communicate their past and present experiences with KALAHI-CIDSS, the problems faced by their communities, and solutions that were addressed by the program using the CDD.
Inspired by the sharing of other participants, Gina Felisilda is excited to go back to her community and share what she learned from the congress. "Ang atoang 'Ugnayan' sa mga boluntir sa nagkalain-laing rehiyon, naghatag kanato og ideya kung unsa kanindot ang KALAHI-CIDSS. Tumong niini mao ang pagpalambo pa sa atong kaalam nga gihatag sa programa ug mabitbit ang mga kasinatian sa ubang mga boluntir sa pagbalik nato sa atoang mga komunidad (Our connection with volunteers from other regions, gives us an idea of how wonderful the KALAHI-CIDSS is. Through this, we are able to further develop our knowledge shared to us by the program and carry the experiences of other volunteers when we return to our communities)," she said.
In one of the workshops, they were also asked to write a song using an existing melody and they chose to rewrite the lyrics of "Lagkaw," a Visayan folk song. Their rendition encapsulates their journey as members of the community. "Tungod sa KALAHI, niabot ang bag-ong paglaum ug hinay-hinay nga kausaban. KALAHI maoy naghatag og katumanan sa damgo nga kalamboan. Dili nato hikalimtan ang mga pagtulun-an nga gihatag sa KALAHI alang sa katawhan," as one of the few lines from their rendition.
For them, the congress is a validation of their hard work for their communities but for DSWD, it opened doors of opportunity for what they can do to grow a network of advocates for the program.
"As program implementers, it is our challenge to keep their passion burning while we continue to explore on opportunities and platforms where they can share their empowerment stories, relate to other volunteers who shared the same success, and propagate what the KALAHI-CIDSS has done in their communities for many years," shared by the program's Social Marketing Officer, Carl James Ocubillo, who also accompanied the volunteers during the 3-day congress.
'Modern-day heroes' recognized for volunteer work
At the end of the congress, volunteer participants were recognized for their contribution in the implementation of the program in their communities during the Bayani Parangal ceremony. They were given certificates by the KALAHI-CIDSS National Program Management Office (NPMO) led by DSWD Undersecretary for Operations Jerico Francis L. Javier, Assistant Secretary for Specialized Program under Operations Group, Florentino Y, Loyola, Jr., and KALAHI-CIDSS OIC-National Program Manager Ma. Consuelo Acosta.
The ceremony aimed to recognize and reward community volunteers and other stakeholders who have actively engaged and promoted the CDD approach, and have unselfishly prioritized the best interest of their communities.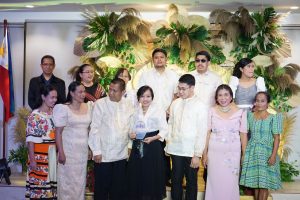 Women empowerment is one of the thematic areas of the program where it has provided many opportunities for women to actively get involved in the local planning process at the barangay level. "Para kanako, ang 'Ugnayan' usa ka simple nga pulong apan adunay lawom nga katin-awan. Usa kini ka pamaagi aron mahatagan og katumanan ang mga adbokasiya sa mga kababayen-an nga gihulma sa KALAHI ug ipaambit ngadto sa uban pang mga boluntir nga adunay susamang kasinatian. Ang 'Ugnayan' sa matag boluntir sa lain-laing rehiyon simbolo sa usa ka nasud nga nagkahiusa (For me, the term 'Ugnayan' is a very simple term but has a deep meaning. It has given a fulfillment to the advocacy of women shaped by the KALAHI-CIDSS and shares it with others who have similar experiences. The 'Ugnayan' of each volunteer in different regions is a symbol of a united country)," said Annabelle Banlat during her speech at the ceremony.
As part of their commitment to advocate for the program, they presented their gifts to other volunteers from other regions during the symbolic exchange with the hopes of promoting the gains of the activity back in their communities.
Meanwhile, DSWD-7 Promotive Services Division Chief Emma Patalinghug is hopeful for the result of the activity. "Through this gathering, we are able to see who among our community volunteers stood out in the implementation of our program and carried out the teachings that were transferred to them by our field staff," she said.
With the national congress and recognition of community volunteers, KALAHI-CIDSS hopes that more members of the community will be encouraged to become volunteers and will advocate the CDD.
KALAHI-CIDSS is a poverty alleviation program that helps communities in poor municipalities to identify challenges on poverty and implement developmental projects using the CDD approach. Through the program, community members actively participate to identify and prioritize their community's problems and allow them to design, implement, and manage solutions to their priority problems. ###
(44) Views