The Department of Social Welfare and Development (DSWD) continues to help vulnerable areas in their fight against the COVID-19 pandemic with the implementation of the Additional Financing of its poverty-alleviation program, Kapit-Bisig Laban sa Kahirapan Comprehensive and Integrated Delivery of Social Services (KALAHI-CIDSS).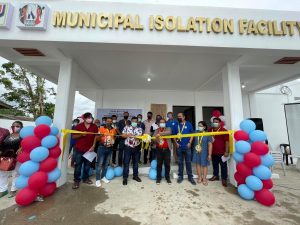 Earlier this year, KALAHI-CIDSS delivered its commitment to the municipality of Batuan in Bohol with the completion of the 16-room isolation facility with amenities worth Php 9.6 million as part of the response and recovery efforts of the community.
With the use of the Disaster Response Operations Modality (DROM), KALAHI-CIDSS was able to fast-track the implementation of the sub-projects in Batuan and the rest of the areas in Central Visayas covered by the program's additional financing.
The ready-to-use facility in Brgy. Poblacion Sur will not only provide health and safety measures, but the empowerment that volunteers gained from the series of training and community organizing prior to its completion is a milestone considered by the local government of Batuan. "Ang pag-empower sa among mga tawo dinhi sa Batuan sama sa pag-involve kanila sa implementasyon, operasyon, ug pag-mentenar sa maong proyekto maoy labing dako nga kalambuan ang gihatag niini sa among gamay nga lungsod (The empowerment of our people here in Batuan, like getting them involved in the implementation, operations, and maintenance of the project, is the true development given to our small town)," says Municipal Mayor Atty. Antonio M. Jumawid.
"Capacitating members of our community while the project is being implemented is already a landmark of progress for the people of Batuan," Jumawid added.
The lot where the isolation facility is located is a donation from the Department of Education (DepEd) to the local government unit of Batuan. "Ang amoang partnership with LGU Batuan usa ka simbolo sa tinud-anay nga demokrasya. Kining isolation facility, bunga kini sa paglambo sa among katawhan (Our partnership with LGU Batuan is a symbol of true democracy. This isolation facility is the result of community development)," says Marcel Dapar, DepEd Supervisor and BDC-TWG Head of KALAHI-CIDSS in Batuan.
DSWD-7 Assistant Regional Director Antonio R. Dolaota is hopeful that the completed sub-project will bring peace of mind to the people of Batuan. "We, at DSWD, hope that with the operationalization of this isolation facility, Batuan will finally be freed from the dangers of the COVID-19 pandemic," he said. ###
(63) Views