The KALAHI-CIDSS, a poverty alleviation program of the Department of Social Welfare and Development (DSWD), has inspired the local government of Basay in Negros Oriental to formulate a strategic development plan that will forge a future growth.
A fourth-class municipality with approximately 30,000 people included in its Comprehensive Development Plan (CDP), Basay LGU allocated from its annual budget a fund to implement a localized context of the Kapit-Bisig Laban sa Kahirapan- Comprehensive and Integrated Delivery of Social Services (KALAHI-CIDSS).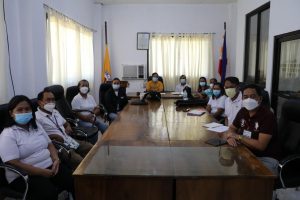 CDP is a blueprint for development that suggests an inclusive approach for providing future growth in the community. These plans are guidance for physical development with emphasis on infrastructure projects.
Local officials have seen the agency's investments with its people through KALAHI-CIDSS projects and participatory activities of great importance in social welfare and development.
Basay local government unit (LGU) enacted a Municipal Development Council Resolution No. 20-04, series of 2020 endorsing the said plan allocaying Php 5 Million for the maintenance of existing sub-projects such as roads, water systems, implementation of priority needs, employment of manpower, and cost of sustainability evaluation.
The resolution states that Basay will allocate a 20% annual budget for the implementation of localized community-driven development strategy from the 20% of their IRA or Internal Revenue Allotment between 2021 and 2027.
Municipal Planning and Development Coordinator Engr. Maynard J. Sala said they find the program very remarkable hence, they continue to follow its process. "In our appropriations, we identify sub-projects to be funded and community volunteers from previous cycles to employ as job order," he added.
Through the "pulong-pulong," a participatory activity, local officials heard the priority needs of their people. The Community Facilitators employed by the LGU, who have previously engaged with the program, facilitated the activity.
Community empowerment remains a top priority for this strategic development plan. Local officials believe that infrastructure projects are by-products of this community-driven development.
"We did not find it hard training them because they know the program's principles and technical expertise, especially in the project implementation," said Municipal Engineer Cecilia C. Estolloso.
For years, Basay has been very supportive in heeding the call of its people who always wanted to have roads, as they believe it is a way of life.
KALAHI-CIDSS completed a total of 3 farm-to-market roads benefiting farmers and fisherfolk.
They believe the community volunteers are their best return of investment from the DSWD partnership, a result of the agency's training and capacity building activities.
The program's design and framework are really wonderful. Sub-projects are just tokens of all the principles that a person can gain from the program, which is people and behavioral transformation," says Engineer Estolloso. ###
(71) Views