The Department of Social Welfare and Development (DSWD) has been implementing its Supplementary Feeding Program (SFP) to help improve and sustain the nutritional status of children, especially in the time of the pandemic.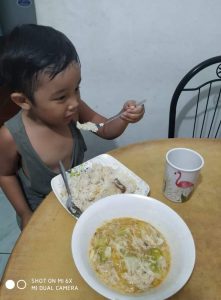 SFP is the provision of food to children in addition to their regular meals as part of the DSWD's contribution to the Early Childhood Care and Development (ECCD) program of the government.
For SFP's cycle 10, DSWD Field Office VII targets 114,505 children aged two to five years as beneficiaries. To maximize the impact of the program, the agency prioritized the undernourished children based on the latest Operation Timbang (OPT) results of the barangay.
The food items are delivered to the houses of the target children-beneficiaries because face-to-face classes are not yet allowed.
The budget per meal for every child is Php 15.00, which is about Php 206.1 million. The food items are procured by DSWD-7 and delivered to all Local Government Units (LGUs) in the region.
The food supplementation is to be served twice a day at snacks or meals, seven days a week for 60 days.
The feeding program is managed by the parents based on a prepared meal cycle using the delivered food supplies.
The children-beneficiaries are weighed after the 60-day feeding to determine the improvement and sustenance of their nutritional status. ###
(105) Views