The Department of Social Welfare and Development (DSWD) conducted a distribution of financial assistance to workers who have been on "No Work, No Pay" for a month at a sugar milling company in the northern part of Cebu.
Two hundred thirty of the 240 employees from the different departments of this company who have been working as administrative staff and factory workers gathered to receive their financial assistance from the agency in the municipal gym of Medellin, Cebu.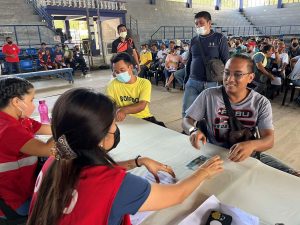 Each of them received 5,000 pesos in cash to support their family's needs in this crisis.
Oliver Ian Sanjorjo, President of Associated Labor Union (ALU) Local 25 in their company, said that this is the first time that has happened to the establishment that they have suspended their work for a period of one month.
"Nagpasalamat mi sa DSWD og sa local government namo dinhi nga naa sila gihatag nga ayuda para namo," Sanjorjo said, emphasizing that his work in the company is their family's main source of income just like his other co-workers.
He said that after the milling season in the middle of May, employees go into forced leave or vacation for days with pay, and then they go back to work to do some repairs and services to prepare for the next milling season.
The company suspended their work from July 15 until August 15, leaving employees with no salary during those supposed working days and seeking assistance from the government.
Rona Noynay, the wife of a sugar milling employee, shared that the assistance they received from the government was a great help to their family, especially since this crisis happened when their children were about to go back to school.
She said that during the suspension, her husband went to another place to look for jobs to meet their needs since his job was their main source of income.
"Makahilak ko sa hinabang na among nadawat, daghang salamat sa DSWD ug sa among LGU," she said.
Apart from the financial assistance from DSWD, the local government of Medellin also provided 10 kilos of rice. ###
(230) Views