The Sustainable Livelihood Program (SLP) of the Department of Social Welfare and Development (DSWD) participates in the 2-day activity Kadiwa ng Pangulo in Cebu, held at the Cebu provincial Capitol grounds.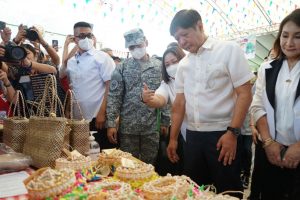 President Ferdinand "Bongbong" Marcos Jr., Cebu Provincial Governor Gwendolyn Garcia, and the Secretaries and Directors of each participating agency to the Kadiwa ng Pangulo in Cebu attended the launch.
During the launch, the President went to each table and checked the price of the items on sale. One of our beneficiaries of SLP was able to shake hands with the President, and to her, it was an honor to be able to meet and greet the president. "Naka lamano gyud ko, lipay kaayo ko ma'am (I was able to shake hands with the president and was so happy to meet him in person)," shares Solma Amistad of the Abuno Guitars SLPA.
"Mapasalamaton kami sa kahigayonan nga nakapaninda mi karon (We are thankful for this opportunity that we are able to sell our products today)," says Jennfier M. Rodela, member of the Liburon Footwear Manufacturing Association from Carcar City, Cebu.
Abuno and Liburon are among the seven (7) Sustainable Livelihood Program Associations that participated in the Kadiwa ng Pangulo Product Caravan led by the Department of Agriculture.
The beneficiaries who joined the Kadiwa product caravan were the following: Abuno Guitars Association; Talayong Badian Weaver's Association; Catmon Deli Vendors; Poblacion 1 Carcar Pantawid Association; Liburon Footwear Marketing Association; Barangay Eight Livelihood Association; and Women of Ylaya Banana Chip Makers Association. These seven (7) associations together with three (3) livelihood assistance grant (LAG) beneficiaries participated in the event and proudly displayed their goods at very affordable prices.
The beneficiaries sold squash crackers, squash binangkal, regular and spicy chicharron, all-time sawsawan spicy vinegar, peanut butter, and salabat powders. The non-food products included Badian's pandan handicrafts, Carcar City's sandals, and Lapu-Lapu City's shell crafts and ukuleles.
During the 2-day product displays, the SLPAs' sales reached Php 51,565.00 for both food and non-food products.
Kadiwa is an initiative of the Office of the President that aims to promote and bring the local products of farmers, fisher folks, and small-scale business owners closer to the markets and to consumers. ###
(71) Views