With the new hype during this community quarantine period, a growing community of plantitos and plantitas showing their interest and love for plants and succulents online has surfaced new business ideas.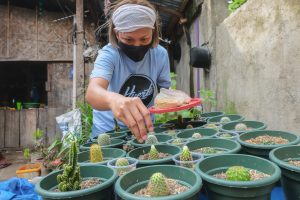 A single mother of two children from Minglanilla, Cebu, Aunette Huerte, started a new means of income by propagating succulents at home and selling them to whoever interests them.
She started this new venture through half of the emergency subsidy she received from the second tranche of the Social Amelioration Program. She claimed it last August 26, at Barangay Calajoan, Minglanilla, Cebu.
Aunette got the idea after her sister encouraged her to use it as capital for a new livelihood.
"Naghunahuna ko nga akoa unta ni ibayad sa kuryente para mo siga na ang among balay balik pero ingon sa akong igsoon nga maayo pa irolling lang sa nako ni (I thought of paying my electricity bills so our house would light up again but my sister told me that it might be better if I would invest the money for it to grow)," Aunette said as her home has no electricity for almost 2 years now.
Aunette said that the other half of the second tranche of SAP was bought for groceries and home needs.
"Pagkadawat gyud nako sa SAP, pagka-gabii gyud dayon ato ni order ko og mga cactus para akong mapalambo (The night after I received the SAP, I ordered some cacti for me to propagate)," said Aunette.
"At least, akoa pa kining mapatuyok (At least, I can roll the money)," Aunette added. She said that she did not want to waste the money she received from the government.
Aunette bought succulents, mini pots, and fertilizers.
She shared that cacti are low maintenance and that she could still do other things while taking care of her children.
Aunette got into various means of living to feed her two children such as selling goods in a shop as well as cooking some homemade delicacies like Biko and Maja.
During the enhanced community quarantine, Aunette said that the SAP really helps her family and that she used the first tranche of SAP to buy for groceries and other essential items.
"Lisod gyud to kay wala naman ko katrabaho, naa ra gyud sa balay nananom (It was difficult because I had no work that time, I stayed at home planting various plants)," shared Aunette.
Aunette expressed her gratitude to the government for its program in helping those people in need, especially poor families that were greatly affected by the pandemic.
"Virus ra na pero mas gamhanan ang Ginoo (The virus is nothing against God)," Aunette hopes that the pandemic will end soon and everyone could now get back with their lives and will be free from any anxieties caused by the health crisis. ###
(62) Views