"Ganahan ko nga ang nadawat nako nga ayuda sa gobyerno dili lang dali mahurot, mao nga gigamit nako ang katunga ani sa puhunan sa akong gamay nga sari-sari store aron motuyok kini ug molambo ang gamay namo nga panginabuhian (I would like that the cash subsidy given by the government would not just be easily depleted, that is why I invested half of the amount in our small store so that the money can be rolled and the main source of our livelihood will prosper)," said Evelyn Abenir of Barangay Guadalupe, Cebu City.
As a housewife, Evelyn waits for her husband to endorse his income to her. Her husband works as a jeepney driver but with the pandemic, there is no income to exert.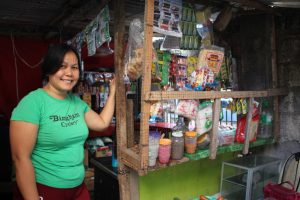 Determined to help her husband as a support to their growing family, Evelyn decided to sell grocery items outside of their house to augment the family income.
"Sa una didto ko nagtinda gawas sa among balay pero apiki man pagbaligya didto mao nga nibalhin ko kini nga pwesto pero duol rapud sa among balay ug galuto pud mga sud-an. Karun makabaligya napud ko og mga utanon, karne ug isda nga gikompra nako sa Carbon market (At first, I started selling outside of our house but the space was cramped, that is why we moved in this new area just near our house and now I also cook viands. In this new location, I can already sell vegetables, meat and fish which I bought from Carbon market)," added Evelyn.
She dedicated her hardwork to her four children who are currently studying. Her eldest son is in college. The second and third sons are in high school. Her daughter, the youngest, is incoming grade six pupil.
In the first tranche of Social Amelioration Program (SAP) payout, Evelyn is one of the 6,349 beneficiaries of SAP of the Department of Social Welfare and Development (DSWD) in Barangay Guadalupe, Cebu City who received Php 6,000.00.
While she used the 3,000 pesos for her small business, Evelyn shared that the remaining amount was spent for the family's basic necessities such as food, vitamins and hygiene essentials.
She also admitted that they resorted to 'pautang' or loan to finance their family store but she realized it was a big burden for them.
"Kada semana ang bayad ato mao nga naninguha ko nga matiwas to og bayad. Karun wala nako ni-utang usab (The payment was weekly and I tried to finish paying the debt. Now, I did not resort to lending again)," Evelyn said.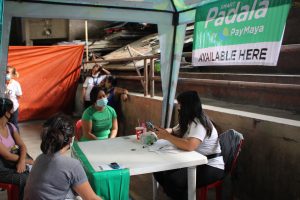 On August 25, 2020, Evelyn received the second tranche of the emergency cash subsidy through a Smart Padala Agent of PayMaya, a financial service provider of DSWD held in Guadalupe's barangay gymnasium.
She said that when she received the SMS for her to register in PayMaya, she downloaded the mobile application in her phone.
"Pila ka adlaw nilabay human ko makaregister, nakadawat ko og text message nga makadawat nako sa akong SAP (Few days after I have registered, I received a text message that I can now claim my SAP)," happily said Evelyn.
Evelyn said that she will use the cash aid as additional capital for her 'sari-sari' store. ###
(496) Views