"The money that you would be receiving should not be used for gambling, for drinking, and for smoking because this is for your children," Rebecca Geamala, regional director for DSWD Field Office VII reminded the beneficiaries during the payout in Tabogon, Cebu last Sunday, August 23, 2020.
The town of Tabogon has 1,297 waitlisted beneficiaries who received the emergency cash aid of Php 12,000.00 each for the 1st and 2nd tranches.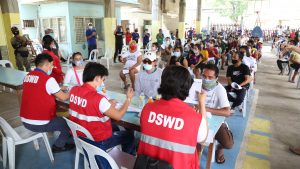 Ceperino Garcia Jr., one of the beneficiaries in Barangay Manlagtang, Tabogon expressed his happiness and gratitude because the amount would be of great help to his family.
Garcia added, "dako kaayo og epekto ang pandemya sa among panginabuhi ug sa among pamilya. Kining kantidad dako na nga tabang sa konsumo sa akong pamilya (The pandemic has greatly affected our livelihood and our family. This amount could keep sustain our family's needs).
As of this report, 61,446 leftout/waitlisted families in Cebu Province have received the emergency cash assistance in the 1st and 2nd tranches while the provinces of Bohol, Negros Oriental and Siquijor have a total of 18,000 left-out families who received the 1st tranche of assistance since they were already under General Community Quarantine in the month of May.
RD Geamala thanked the Local Government Units, the barangay officials and the Philippine National Police who have untiringly provided their services and for preparing the venue, keeping an orderly and peaceful SAP Payout. ###
(411) Views