"We are privileged to be invited to display our products in the Likhang Hiraya of the Sustainable Livelihood Program (SLP). The pandemic has been rough to us, small entrepreneurs, but joining this activity gives us hope and links us to possible markets," says Junjun P. Densing, one of the participants of the Likhang Hiraya Product Display and Exhibit.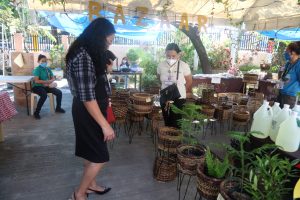 Densing, a resident of Barangay Canlusong, Sogod, Cebu, produces beautifully crafted planters made of indigenous materials.  A Livelihood Assistance Grant (LAG) beneficiary, Densing, could not stop thanking the SLP for inviting him to the Likhang Hiraya Exhibit. He hopes this kind of activity will continue to help small entrepreneurs.
Like Densing, Zenaida Labarejos expresses her gratitude, "I am thankful to SLP for this opportunity because we are looking for buyers of our products."
Labarejos added that being a beneficiary of the Livelihood Assistance Grant of SLP has given them hope.  She is a plant grower and seller from Barangay Pamutan, Cebu City.
"Ang ayuda nakatabang gyud namo kay nakapalit mi og daghang klase sa ornamental plants nga gitanom namo. Mao man kini ang trend karong quarantine (the assistance helps us because we were able to buy different kinds of ornamental plants to grow. It is the trend during this quarantine)," said Labarejos.
Labarejos and Densing are LAG beneficiaries of the response and recovery programs of the Bayanihan ACT 2 implemented by the Sustainable Livelihood Program of the Department of Social Welfare and Development (DSWD). The small entrepreneurs affected by the community quarantine during the pandemic like Labarejos and Densing benefit the LAG.
Both shared that the Sustainable Livelihood Program has helped them improve their livelihoods.
The total sales of all participants reached Php 218,701.00. The participants like Labajeros, Densing, and the trainees from the Area Vocational Rehabilitation Center (AVRC) II expressed their gratitude to the government for helping them in these trying times. ###
(85) Views