Christmas will be indeed merry to Cambat-an women who are part of the Sustainable Livelihood Program (SLP) of the Department of Social Welfare and Development as they look forward to receiving the profit share of their group's livelihood this December.
"Daghan salamat sa SLP nga niabot gayud sa amoang komunidad. Nakatabang gayud og dako namo karon naa nami gihandom sa December (Thank you to SLP that it reached our community. It is a big help for all of us, and we now have something to look forward to this December)," said Nilfa Miao.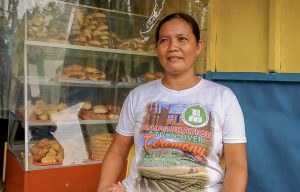 Miao is one of the 48 members of the Cambat-an Women's SLP Association in San Francisco, Camotes Island, Cebu. She, along with other members, manages a bakery that offers a variety of bread and cakes for their community and neighboring communities at a low price.
"Makapamasko ug makapamag-ong tuig napod kay naa naman gayud mi makita nga klarong kita sa amoang bakery kung magtinabangay lang gayud tanan (We can now celebrate Christmas as well as New Year because the bakery yields clear profit for us to share if we just work together)," Miao added, emphasizing that they will obtain their profit share this December.
The Cambat-an Women's SLPA received 320 thousand pesos seed capital fund from DSWD sustainable livelihood program as a start-up for their bakery, which opened in February 2020.
Their SLPA President, Marianita Garbe, said that the seed capital fund from DSWD is a big help for them to organize as a group and operate the bakery.
"Ako sila gidasig nga magtinabangay lang ug dili mag away-away para mapalambo pa ang association (I encouraged them to help one another and avoid conflict so make our association more productive)," Garbe added.
Members of this SLPA are mostly tailors, farmers, and livestock raisers, where some are members of the Pantawid Pamilyang Pilipino Program (4Ps).
The working hours of each member start at 4:00 am until 8:00 pm. The agreed point system on the number of working hours a member spent for their bakery would be the basis for their profit sharing. ###
(129) Views