Despite the hardships that their family has to endure, Kaye was not easily discouraged; instead, she used this opportunity to persevere to finish her studies.
"Lisud ang kinabuhi namo sa una kay gaagad raman kami sa income ni Papa isip mananagat ug kang Mama isip labandera (Our life before was really difficult because we just rely on the income of our father as a fisherman and to our mother as a laundrywoman)," said Kaye Balansag.
The Balansag family lives in a simple house near the dockside in Barangay Poblacion, Medellin, Cebu. Kaye's father, Erlindo, goes to the sea to catch fish, which her mother sells in their local market.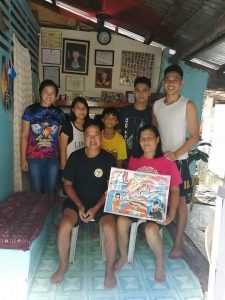 "Kung dili makapanagat si Papa tungod kay bati ang panahon ug aduna siya gipamati sa lawas, maglisud gyud mi makasud-an mao nga usahay mag-asin ug magpatis nalang mi pares sa among kan-on (If our Father cannot go fishing because of bad weather and he does not feel well, we cannot have a decent viand and sometimes we just have salt and soy sauce to pair with our rice)," recalled Kaye.
Kaye shared the hard life they experienced. Their family is poor, but her parents successfully imparted in them the values of integrity and honesty.
The family has never been involved in any illegal activities and has no derogatory records in the community.
To augment the small income of their parents, Kaye and her elder sister Marie Julien would often go to the seashore to get some seashells at dawn. They would sell it to their neighbors for them to buy lunch. They would also collect metal scraps from their neighbors and sell the items at the junk shop.
"Our parents would discourage us from doing these activities, but my elder sister would insist to our parents to help them, especially that we also have other younger siblings to feed," added Kaye.
4Ps beneficiary
When the Balansag family became Pantawid Pamilyang Pilipino Program (4Ps) beneficiary in 2012, the cash grant has benefited the family, especially the education and health of children Jehove, Jig Marvin, and Kittey.
Kaye considered it a blessing for it would help their family buy basic needs like food, school supplies, among others.
Aside from the cash grant they receive from the program, the family also receives psychosocial and relevant information from Family Development Sessions (FDS), which tackle Financial Management, Children's Rights, Gender Equality, and Equity, among others. Erlindo and Gina regularly attend the monthly FDS and applied the lessons to their family.
In one of the FDS, the Bureau of Fisheries and Aquatic Resources (BFAR) trained Erlindo and other fisherfolk on different fishing methods and preservation of the natural resources.
Kaye also attended a Youth Development Session (YDS) specifically designed to expose the 4Ps youth to adolescent dynamics lessons such as teenage pregnancy, reproductive health, decision making, peer pressure, substance abuse, and pornography.
It also provided Kaye the opportunity to interact with other youths in the community and to become a way for them to join the Pag-asa Youth Association of the Philippines (PYAP).
She would later become the PYAP Federation President of Medellin and represented her hometown at the provincial and regional levels.
ESGP-PA
When Kaye graduated secondary school, she was both happy and worried. She thought about attaining a college degree, but considering the meager income of her parents, who also support her other siblings, it would be impossible.
Luckily, Kaye was able to pass the university exam and became part of the Expanded Student's Grants-in-Aid Program for Poverty Alleviation (ESGP-PA).
ESGP-PA is a program dedicated to college students of families under 4Ps, who are qualified to enroll in selected State Universities and Colleges. This program was implemented by the Commission on Higher Education (CHED) together with the DSWD, Department of Labor and Employment (DOLE), and State Universities and Colleges (SUCs).
Kaye was among the 75 ESGP-PA student-beneficiaries in her batch who received an allowance every school year.
"I am very fortunate that I was able to pursue my college education and at the same time help my parents," said Kaye.
After four years in college, Kaye finished a Bachelor of Tourism Management degree from the Cebu Normal University (CNU) Medellin Campus in 2018 and received a Latin honor in her graduation.
Determined to help her parents, she immediately started working as a contractual worker in the Municipal Government of Medellin. She also had a chance to work in the Department of the Interior and Local Government (DILG) in one of their project-based programs.
To Serve and Protect
Worried that her stint in DILG would end, another opportunity came to her. She saw the calling of applicants of the Philippine National Police (PNP) and decided to take a chance for another job application.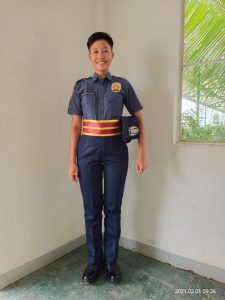 She officially became part of the PNP on July 5, 2020, and currently holds the position of Patrolwoman (Pat.).
"Nirisgo gyud ko ato nga mo-apply kay ganahan ko naa ko stable income para makatabang ko sa akong pamilya ug pasalamat sa Ginoo nga gidungog niya akong pag-ampo ug karon nakasulod nako sa PNP. Dili lalim akong naa-gian kay pagsugod pag-apply mao sad to nga nag-pandemic tungod sa COVID-19. Usahay magka-utang utang pa aron makalahutay lang kami (I took a risk in applying because I want to have a stable income in order to help my family and I was very thankful to God that he listened to my prayers and now I am with the PNP. It was not easy journey because when I started to apply it was also the start of pandemic due to COVID-19. We sometimes lend money just to be able to survive)," recalled Kaye.
Kaye shared that she can now help her parents and support her younger siblings' education.
The eldest daughter, Marie Julien, is now a teacher and already has a family. The third child, Jehove, is a first year Bachelor of Science in Criminology student, while Jig Marvin, the fourth child, is also a second year criminology student. The remaining 4Ps monitored child, Kittey is in grade 8 and the youngest child, Jade, is currently in grade 7. 
From a government's major poverty alleviation program beneficiary, Kaye is now a member of the Philippine National Police whose mandate is to serve and protect its citizens. ###
(211) Views