Awful and wretched. These are the words that Federico Ellut would describe his life. But he changed for the better when he started his relationship with God.
"Kaniadto, miserable gayud akong kinabuhi. Halos tanang bisyo sa kalibotan siguro na-agian nako sama sa sugal ug inom (Before, I had a miserable life. Almost all vices in the world, I have experienced it: gambling and getting drunk)," shared Federico.
Due to poverty, the young Federico was not able to pursue his secondary education.
"Sa una man gud, ang importante ra ato makabalo mobasa ug mosulat. Wala ko gahuna-huna unsay kaugmaon ug tungod pud sa kalisod wala gyud ko nakatiwas og eskwela. Apan kadtong mga naagian nako nakakat-on ko og paningkamot (Before, what mattered most was only knowing how to read and write. I had not thought about the future. Because of poverty, I had not finished my education. However, the experiences had taught me to be determined)," he recalled.
By the time he started his own family, Federico also learned masonry works. He worked day and night to sustain the needs of his growing family. But he felt there was something lacking in his life.
Change for the better
When Federico got invited to the Bible Baptist Church, he realized that he misses God in his life. He gladly accepted the pastor's invitation and started reading the bible.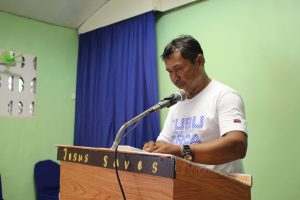 He shared his favorite bible verse from 2 Corinthians 5:17, which states, "Therefore, if anyone is in Christ, the new creation has come: The old has gone, the new is here!"
Struck by this quote from the bible, he decided to leave his vices, became a pastor, and started a new life for the sake of his family.
"Dili paman ulahi ang tanan nga magbag-omao nga naningkamot ko nga mamahimong maayong modelo alang sa akong mga anak ug sa uban nga nagtan-aw kanako (It was not late to change that is why I persevered to be a good role model for my children and to others who look upon me)," said Federico.
The Fisherman
Living in a small fishing village in the northern part of Cebu, Federico considered fishing as his livelihood. He became a fisherman in Barangay Poblacion, Daanbantayan.
He wakes up early in the morning to go fishing. Using his simple fishing equipment, he would catch different kinds of fish such as tamban (sardines), hasa-hasa (mackerel), buraw (short mackerel), and tulingan (mackerel tuna), among others.
His wife Rose would later sell his local catch to the town's wet market and would earn between Php 800.00 to Php 3,000.00.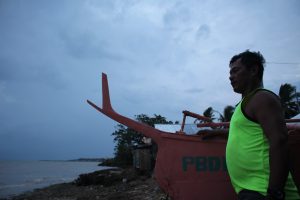 However, he felt his income could not support his family's needs since his livelihood relies on the weather condition. Sometimes, when he gets sick, his livelihood is also affected.
4Ps beneficiary
Federico was glad when the family became part of the Pantawid Pamilyang Pilipino Program (4Ps) because it could help support the needs of his family, especially his children's education.
"Dako gyud ang natabang sa Pantawid sa among pamilya kay sa una manggud, ang among tanang kita magamit lang sa pagpalit sa pagkaon ug lain pang panginahanglanon sa mga bata. Lisud mi makatigom ug makapaayo sa among panimalay kay sakto ra gyud ang kita (Pantawid had greatly helped our family. Before, all our income would only be used for food and sometimes for other needs of our children. It was difficult to save money and improve our house because our income is just enough)," said Federico.
"Because of 4Ps' financial support, instead of using all my income for our family's needs, we used it to buy materials for the house improvement, fishing gears, and to fix my fishing," shared Federico in dialect.
As an active pastor of their church, he also shares his life learnings during the monthly Family Development Session (FDS) through the National Auxiliary Chaplaincy Philippines (NACPHIL).
NACPHIL, a partner civil society organization of the Department of Social Welfare and Development (DSWD) in the conduct of the FDS. Among the topics discussed during these sessions are husband-wife relationships, child-rearing, child's rights, health and hygiene practices, and promotion of positive values.
Federico always shared with his 4Ps co-beneficiaries to use the cash grant wisely. He underscored that the cash grant should not be misused, abused, and idolized.
He attested the change of behavior of 4Ps beneficiaries through the lessons from the FDS.
"Sa una dili gyud ang uban maminaw samtang nag-FDS apan tungod sa paningkamot sa mga Pantawid Municipal Link ug pahimangno nga seryosohon ang matag FDS, nakita gyud nako ang kausaban (Before, some would not listen during the FDS but through the perseverance of the Pantawid Municipal Link and the constant reminder to take the FDS seriously, I was able to see the change)," Federico said matter-of-factly.
His dedication, determination, diligence, and discipline made Federico the Cebu Provincial Winner for Pantawid Modelong Ama in 2017.
Graduating from 4Ps
After nine years in the program, Federico has improved their house and established a small store as an additional source of income.
His eldest son, Jaylord, currently works as a real estate agent and the second child, Liza, works as a sales agent. The two monitored children, Frederick and Lea, is now an IT specialist working in Mandaue City and a third-year college student taking up IT course in Cebu Technological University (CTU) Daanbantayan campus, respectively.
For Federico, it was never late to change, no matter how far you have fallen away from God and no matter how big you have failed. ###
(46) Views