"In every problem, there is always a solution because if there is no solution, then the problem is wrong"!
And the laughter echoed across the four walls of the Area Vocational Rehabilitation Center (AVRC) II in Labangon, Cebu City, during the DSWD Field Office VII's 70th celebration on March 5, 2021.
Humorous yet very inspiring, these words are what kept Ms. Mary Ann Pastedio for the last 35 years of service and counting in DSWD.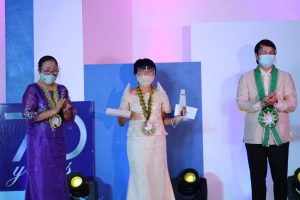 This cheerful and energetic staff of the Accounting Section is one of the Loyalty awardees of the DSWDs 70th-celebration.
In her response speech after receiving the award, Ms. Pastedio looked back on her early days in the department. She recalled how she prayed for a job that can help the less fortunate. While still applying for a job, she asked the former personnel officer to accept her in DSWD even without a salary, for she only wanted to be familiar first with the work. The officer replied that she would have a salary.
She fondly remembered the first time she boarded on a plane to Dumaguete City in 1984 with the late Director Lily S. Talagon, the first regional director of DSWD-7, to meet with mayors. RD Talagon asked her if she ever been on a plane, and when she said no, RD Talagon told her to go to Dumaguete City with her to meet with the mayors.  "So, I boarded on a plane in 1984," she screamed with delight.
Pastedio said that her job in the department is very challenging. She was new when asked to get documents in the stockroom. Since she is not familiar with the stocked files, she said finding the documents is like finding a needle in the middle of the haystack. She even described having to learn some acrobatic moves to climb in the shelves up to the ceiling while reciting Psalm 23 to give her strength and guidance from the Holy Spirit.
And yet, she lasted for more than three decades. Her secret, she said, is "finding happiness in my work."
Since her job requires scrutinizing the documents, she has lived up to the slogan, "Let the paper talk."
"To my new co-workers, do not hesitate to ask. Whatever you do, always refer it to the legal basis and some supporting documents. Also, do not forget this slogan that I will left. Let the paper talk so that anybody reading it can get a clear picture," encouraged Pastedio.
Pastedio is happy and grateful to DSWD for giving her the venue to express herself.
She thanked everybody, her friends and co-workers, her previous supervisors and staff way back in 1985, for all the things that she has learned and for the opportunity to share these learnings with others who asked from her. She is also very grateful to her family.
"Thank you, Lord, and thank you, all, for being part of my existence," Pastedio expressed.
Reaching 35 years of service is an achievement. If one is truly dedicated, happy, and grateful to be of service to others, tasks will become bearable. ###
(149) Views