Job-seekers from different regions grabbed the opportunity in the Department of Social Welfare and Development Field Office VII (DSWD-7), including Pantawid Pamilyang Pilipino Program (4Ps) beneficiaries. A total of eight (8) beneficiaries of 4Ps have been taken in and have become part of the workforce of DSWD-7.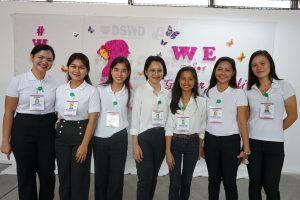 Flordeliza H. Delfin was once a 4Ps monitored child in high school. She mentioned she was motivated to pursue a career as a social worker to express her gratitude to the government and took advantage of the opportunity to assist people in accessing various programs and services.
Another 4Ps beneficiary from region 10, Hanna Frechey T. Baid, was given the opportunity to take the path in DSWD-7 as she guaranteed her mother that soon she would become one of the resource speakers in the Family Development Sessions (FDS) that encourage the 4Ps household beneficiaries to become productive and responsible to meet every family's needs.
"Thankful kaayo kay usa nako sa mag-conduct sa FDS. Sa una, akong mama ang maminaw og FDS online, mao to niana kos akong mama nga sunod ako na dira, ako na ang mo lead sa FDS ug sa mga 4Ps beneficiaries (I am thankful that I am now one of those who will conduct FDS. Before my mother was listening to FDS, I said to her that someday I will lead them and the 4Ps beneficiaries)," Baid said.
Ann Millennie C. Antoque, a 4Ps beneficiary from Toledo City, Cebu, graduated in July 2022 and passed the board exam in September 2022 as the ninth placer.
"I was really shocked and beyond grateful gyud ko sa DSWD because it's really opened a lot of opportunity for me and because of the 4Ps as well, naa napud koy mga duha ka igsoon nga nakagraduate so, tulo nami nakagraduate then, ang last nalang nako nga brother ang second year college karon (I was shocked and beyond grateful for DSWD because it opened a lot of opportunities for me and because of the 4Ps as well. I also have two brothers who graduated, so we are now three, and my last brother is in his second year of college now)," Ann said.
Judemie S. Capcap, Krystal Jessa G. Acedo, Rhea Aimee C. Mercedes, Evelyn A. Gula, and Jehan B. Canacan also thanked the Pantawid Pamilyang Pilipino Program (4Ps) for helping them fulfill their dreams. Some of them pursued their studies in college with the support of the Tertiary Education Subsidy (TES), a grant-in-aid program of the government that helps qualified, disadvantaged students and those living in cities and municipalities without public universities with their studies.
The DSWD newly-hired workers will be attending a series of orientations and trainings as they work for 4Ps to build on their capacities as effective implementers of the program. ### 
(753) Views