The Department of Social Welfare and Development Visayas Disaster Resource Center (VDRC) delivered 15,000 family food packs for the typhoon-affected families to DSWD Field Office V in Legazpi City on November 18 and 19.
This is part of the DSWD's continuous provision of augmentation support to the local government units (LGUs) that were affected by the recent typhoons that ravaged the areas of Luzon.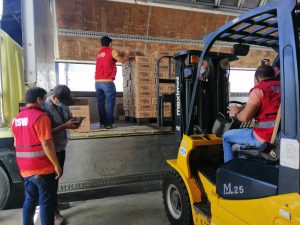 The DSWD VDRC, located in Brgy. Tingub, Mandaue City, is a warehouse that features a pallet racking system for improved storage of food packs and warehousing of food and non-food commodities, guaranteeing quality stockpiles of family food packs and other humanitarian assistance ready for distribution for the whole Visayas. It also sends augmentation support to other regions outside the Visayas.
These FFPs are expected to reach the Bicol Region by November 20 and 21.
The DSWD field office in that region shall distribute the augmented FFPs to local government units in the Bicol region struck by Super typhoon "Rolly".
Each FFP contains six kilos of rice, a variety of canned goods, and sachets of powdered drinks.
The total value of FFPs sent to the Bicol region is Php 6,574,350.00.
Last November 1, the strongest typhoon this year — Super typhoon "Rolly" — made landfall in the Bicol region, and a week later another typhoon — "Ulysses" — tracked near the region. These typhoons destroyed several properties and livelihoods due to flooding and landslide brought about by torrential rains and catastrophic winds.
In massive effects brought by the disaster or calamity, DSWD immediately provides augmentation support to LGUs. ###
(49) Views