The Department of Social Welfare and Development (DSWD), through its Field Office VII, clarified that the recent rescue operation of Lumad children in Cebu City was conducted in coordination with the local government unit (LGU), through its Local Social Welfare and Development Office (LSWDO), being the first responder in protecting the welfare of minors under its jurisdiction.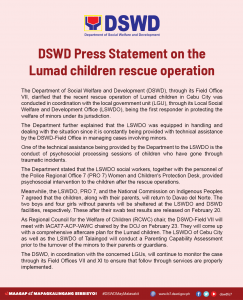 The Department further explained that the LSWDO was equipped in handling and dealing with the situation since it is constantly being provided with technical assistance by the DSWD-Field Office in managing cases involving minors.
One of the technical assistance being provided by the Department to the LSWDO is the conduct of psychosocial processing sessions of children who have gone through traumatic incidents.
The Department stated that the LSWDO social workers, together with the personnel of the Police Regional Office 7 (PRO 7) Women and Children's Protection Desk, provided psychosocial intervention to the children after the rescue operations.
Meanwhile, the LSWDO, PRO 7, and the National Commission on Indigenous Peoples 7 agreed that the children, along with their parents, will return to Davao del Norte. The two boys and four girls without parents will be sheltered at the LSWDO and DSWD facilities, respectively. These after their swab test results are released on February 20.
As Regional Council for the Welfare of Children (RCWC) chair, the DSWD-Field VII will meet with IACAT7-ACP-VAWC chaired by the DOJ on February 23. They will come up with a comprehensive aftercare plan for the Lumad children. The LSWDO of Cebu City as well as the LSWDO of Talaingod will conduct a Parenting Capability Assessment prior to the turnover of the minors to their parents or guardians.
The DSWD, in coordination with the concerned LGUs, will continue to monitor the case through its Field Offices VII and XI to ensure that follow through services are properly implemented. ###
(95) Views