The Department of Social Welfare and Development (DSWD) Field Office (FO) VII has facilitated the transfer of the five IP children from a DSWD-run facility in Cebu City to a DSWD center in Field Office XII on April 10.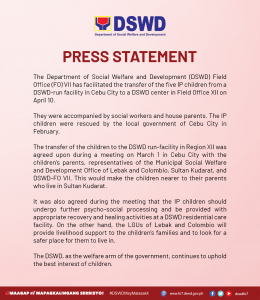 They were accompanied by social workers and house parents. The IP children were rescued by the local government of Cebu City in February.
The transfer of the children to the DSWD run-facility in Region XII was agreed upon during a meeting on March 1 in Cebu City with the children's parents, representatives of the Municipal Social Welfare and Development Office of Lebak and Colombio, Sultan Kudarat, and DSWD-FO VII. This would make the children nearer to their parents who live in Sultan Kudarat.
It was also agreed during the meeting that the IP children should undergo further psycho-social processing and be provided with appropriate recovery and healing activities at a DSWD residential care facility. On the other hand, the LGUs of Lebak and Colombio will provide livelihood support to the children's families and to look for a safer place for them to live in.
The DSWD, as the welfare arm of the government, continues to uphold the best interest of children. ###
(66) Views