"This Performance Governance System (PGS) scoreboard shows that even in the midst of dark times, region 7 will always shine," Director Jam Karess Z. Banzon, of the Office for Strategy Management (OSM) said online.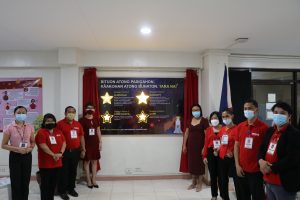 The DSWD Field Office 7 recently launched the PGS scoreboard and that of the programs and offices scoreboards which have direct contribution to the FO's strategic priorities such as Clientele, Capacity, Compliance, and Care.
Stars are used to depict the targets or the Strategic Priorities that the office committed to accomplish.
The stars' brightness represents the accomplishment, thus, the star on the Capacity shines brightest since region 7 reached more than 100% of its target.
This scorecard is used to track or measure the department's accomplishment.
The PGS or Performance Governance System, is a holistic and collaborative framework for designing, executing, monitoring, and sustaining roadmaps to reform. It has four stages: Initiation, Compliance, Proficiency, and Institutionalization.
The DSWD FO7 PGS Core Team headed by ARDO Shalaine Marie S. Lucero is now preparing for the third stage of compliance which is the Proficiency level.
PGS Focal ARDO Lucero thanked everyone for the full support to make this event a reality. "We take pride in launching today our commitment to journey together with the entire DSWD Family as we adopted the PGS pathways to pursue continued excellence in service," said ARDO Lucero.
With PGS, every employee is called to be a governance warrior. Committed to follow the planned strategies and innovations for a unified breakthrough results.
"PGS is perhaps new to some of us, but helping the people is not. With PGS, we will be guided so that we can provide an excellent service to the people and that is the essence of good governance," said Regional Director Rebecca P. Geamala.
With good governance in place, corruption can be prevented. This geared towards the fulfillment of the departments mandate and core values – Maagap at mapagkalingang serbisyo; serbisyong walang puwang sa katiwalian; at patas na pagtrato sa komunidad. ###
(72) Views