The DSWD Field Office VII has started the distribution of social pension for indigent senior citizens for the first semester. Each beneficiary receives P3,000 per semester.
DSWD-7 Regional Director Rebecca P. Geamala visited some towns in Negros Oriental that conducted the payout to check on the actual payout implementation. She urged the staff to ensure that all social pensioners receive their pension as they needed it badly to help with their expenses. Negros Oriental has 54,760 social pensioners.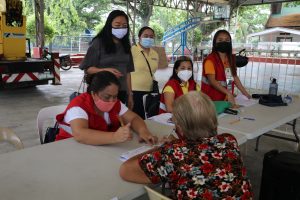 "Try your best to locate them and make sure that all of them are paid," Regional Director Geamala said to the staff during the meeting in Social Welfare and Development (SWAD) office in Dumaguete City, Negros Oriental.
The SocPen payouts for the other municipalities and cities around Negros Oriental, Cebu, Bohol, and Siquijor are also conducting the payouts. The beneficiaries are notified through the Local Government Unit (LGU) officials for the venues and schedules of payouts.
Furthermore, not all senior citizens in the LGUs are automatically included in the SocPen as the department prioritized those who are indigent, without any pension, and no support from the family members. The eligible ones went through a validation process. ###
(70) Views