The Department of Social Welfare and Development (DSWD) Field Office 7 conducted a Regional Consultation with civil society organizations (CSOs) for the 2025 Proposed Budget from October 26-27, 2023 in Cebu City.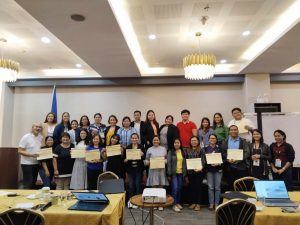 Spearheaded by the Policy and Plans Division (PPD), the two-day activity gathered some DSWD FO7 staff members and representatives from the following Social Welfare and Development Agencies (SWDAs): Central Visayas Network of NGOs, Gender Watch Against Violence and Exploitation, Parents REACH Foundation-REACH Learning Center, Inc., CFIC BROTHERS FOUNDATION, INC, JUANITO I. KING FOUNDATION INC., Arms of Love Philippines, Inc., Enfants d'Asie ASPECA (translation Children of Asia ASPECA), Speech Language and Beyond Therapy Incorporated, Blessed Mother Josephine Vannini Home for the Aged Daughters of St. Camillus Inc., Shelterbox Operations Philippines, Inc., Glory Reborn Organization Inc., Ramon Aboitiz Foundation, Inc., Shepherd Arms, My Bonita Home for Girls , SOS Children's Village, and World Vision International.
The activity manifested the commitment of DSWD 7 to the Open Government Partnership, creating space for citizen participation in the budget process. National agencies need to broaden the constructive partnership with CSOs so that the DSWD budget can account for crucial and sector-focused needs determined through the consultation process during agencies' annual budget preparation.
This annual activity aims to provide a venue for the CSOs to have thorough discussions and updates on the processes concerning budget preparations. ###
(40) Views