The "Dios te salve, Maria" song resounded in the vicinity of Home for Girls as its residents graced their beauty and creativity as they celebrated the Santacruzan last May 27, 2022.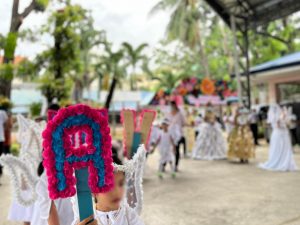 The Home for Girls is a residential care facility managed by the Department of Social Welfare and Development (DSWD) that caters to young women who are victims or survivors of abuse, violence, and exploitation.
The residents dressed as queens, namely: Reyna Banderada, Reyna Sentenciada, Reyna Justicia, Reyna Fé, Reyna Esperanza, Reyna Caridad, Rosa Mystica, Reyna del Cielo, Reyna de las Estrellas, Reyna de las Virgines, Reyna de los Angeles, Reyna del Paz, Reyna del Santisimo Rosario, Reyna de las Flores, Reyna Elena, and Reyna Emperatriz.
The residents and staff teamed up to use recyclable materials such as rice sacks, plastics, magazines, and newspapers to design some of the ternos worn by the queens.
Some queens also wore gowns by a local designer, Anatolia Matugas, and others by persons-with-disabilities trainees of the Area Vocational Rehabilitation Center II.
All the queens paraded together with their decorated umbrellas and arches embellished with recycled materials and things that can be found within their vicinity.
Some children from the Reception and Study Center for Children, a facility run by DSWD servicing abandoned, neglected, and/or surrendered children 0–6 years of age, also joined the religious parade as angels.
These angels carried letters spelled "Ave Maria" and offered flowers to the image of the Virgin Mary.
Santacruzan is one of the culminations of the rehabilitative activities done by HFG as part of the psychosocial interventions given to residents to overcome their trauma and prepare for their reintegration with families.
This kind of activity is also seen as an opportunity for its residents to hone their talents and skills and discover their potential. ###
(35) Views