The Department of Social Welfare and Development (DSWD) will add new beneficiaries under the Pantawid Pamilyang Pilipino Program (4Ps).
For Central Visayas region, a total of 6,670 households are targeted to enroll to the program by the end of the year.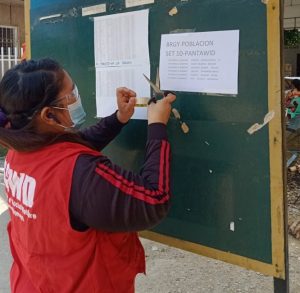 Currently there are 279,943 household beneficiaries in the region.
The new 4Ps beneficiaries will replace those beneficiaries who exited and those who will exit from the program.
The DSWD Field Office VII has already started the validation process of the potential 4Ps beneficiaries and still ongoing. The master list of the potential 4Ps beneficiaries are posted in conspicuous spaces such as barangay halls and municipal halls.
The list of potential beneficiaries come from the Listahanan database, which is based on the result of the second round of household assessment in 2015.
Aside from being identified as poor from Listahanan, a Pantawid household beneficiary must have children aged 0-18 or a pregnant member at the time of the assessment and must be willing and able to comply with the conditionalities of the program as part of their co-responsibilities.
The Department enjoined the public to validate the master list to ensure that only eligible beneficiaries will be part of the program. The validation process can be done either through a community assembly or a house-to-house visit.
While areas in Central Visayas region are still being placed under modified general community quarantine (MGCQ), validation and registration would strictly follow the minimum health standards such as wearing of face masks and face shields, sanitizing hands and physical distancing during the conduct of the community assembly.
The 4Ps is a program of the national government that invests in the health, nutrition and education of poor households primarily of children aged 18 and below. It is implemented by the DSWD together with the Department of Health (DoH) and the Department of Education (DepEd).
Households are provided with cash grants in exchange of complying with the conditionalities of the program. These include school attendance of at least 85% per month for children enrolled in pre-school, elementary or high school; children aged 5 and below would need to undergo preventive check-up as mandated by DoH; children enrolled in the elementary must receive deworming pills twice within the school year; pregnant women must receive pre and post-natal care based on DoH protocol; and parent/s or guardians are required to attend the monthly Family Development Session (FDS). ###
(16454) Views