One of the centers and residential care facilities (CRCFs) of the Department of Social Welfare and Development (DSWD) Field Office VII, Home for Girls, marks its 29th anniversary through a recognition ceremony for partners.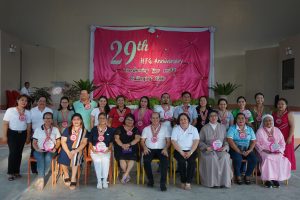 According to its center head, Social Welfare Officer III Jennifer B. Abastillas, one way to celebrate this milestone is to recognize those who have committed to transforming the lives of their residents over the years.
It bears the theme "Transforming lives amidst challenging times" by giving importance to the shared responsibilities of various stakeholders who contributed their resources and expertise in its mandate delivery.
Facility for abused girl-children
HFG is a residential care facility for girl children ages 7-17 who have been removed from their families due to sexual abuse and exploitation and were taken into custody by the state.
It seeks to provide protection and rehabilitation to child victims while facilitating their early recovery and reintegration into their family and community.
An increasing number of cases of abuse towards girl children progressed; concerns about their safety led to the establishment of the facility in 1994.
Since then, the facility's objective has been to transform child victims into productive members of society once reintegrated into their families and communities.
Among its services are temporary residential care, group and individual counseling, therapy sessions, referral services to legal, medical, psychological, and psychiatric care, home life services, spiritual enhancement, and values development, among others.
Partnership for a caring and nurturing environment
On October 27, 2023, Home for Girls recognized their partners, staff, and former residents who have become part of the institution for many years through an award ceremony.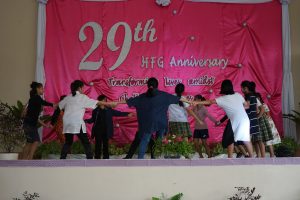 A Franciscan Sisters of the Sacred Hearts-managed facility, My Bonita Home for Girls, located in Talamban, Cebu, is one of the awardees. Executive Director Sr. Gaudiosa C. Pedoche said in her acceptance speech that the partnership between their institution and DSWD-7 has blossomed since they began their engagement. "Our work with DSWD has become an instrument in creating a loving and nurturing environment for the girls under our care. The collaboration between us has truly become a hope for our children by providing them guidance, support, and the resources needed to achieve their individual goals and we look forward to an even stronger partnership in the future," the director shared.
DSWD 7 also recognized other privately run social welfare and development agencies for their work with HFG. Partners recognized are Innodata Knowledge Services, Inc., Cebuano Arts Club, Inc., World Hope International, Restore Children and Family Services, Inc., and the Cebu Hope Center.
Public institutions and LGUs such as the Pink Center, Center for Behavioral Sciences, and Program for Young Parent Clinic of the Vicente Sotto Memorial Medical Center (VSMMC); Cebu City Health Department; Cebu City Disaster Risk Reduction and Management Office; and Labangon Rural Health Unit and Fire Station were also recognized.
Academic partners have also provided the facility with varied allied health services in connection with health care. Some of these partners sent their student-trainees to the facility for an immersion, namely, the Occupational Therapy Department of Cebu Doctors University, the Psychology Department of Cebu Institute of Technology-University, the Social Work and Psychology Department of the University of Southern Philippines, and Don Sergio Osmeña Sr. Memorial Medical Center.
Individual partners also received other awards. Former HFG workers received special citations and loyalty awards for existing employees.
Director for Operations Juanito C. Cantero said the celebration becomes more meaningful because of people who hugely contributed to the protection and welfare of girl children. "Our partnership brought that love and care needed by these children to be whole again as they reintegrate into their communities," he said.
DSWD-7 considers its partners as prime movers of the feat it has achieved over the years and believes the partnership will bring hope to many abused children and inspire them to continue their transformative journey.
Inspired by little 'Cherries'
HFG recognized former resident Cherrie Mae Diacor, now a licensed professional teacher, for her transformative rehabilitation journey.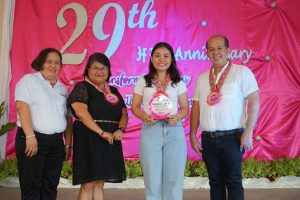 Since she left the facility, significant changes happened in Cherrie's life. She graduated from senior high school with honors and worked in a BPO company to finance her secondary education course, major in English at the Cebu Normal University. She graduated her college education cum laude.
According to Cherrie, her success story is not the typical definition of success. Hers was a story of survival inspired by the girls she had been with during her stay at the facility.
"When I became a child of the state, the government brought me to HFG. At first, I could not understand the point of living, and I thought of giving up many times. But then, I saw myself in the girls I had been with. It made me understand why I was in the facility. It was because I needed to survive. I saw little 'Cherries' that needed my strength and support," Cherrie said during her speech.
She considered other girls as little 'Cherries' who, like her, shared the same trauma and experiences that affected their development as children. She understood that she had to live and survive to show these children that there was hope in their journey towards healing.
Looking back, Cherrie saw the transformation that she had from when she came into and left the facility, which led her to where she is right now. "When I saw the little 'Cherries' inside the facility and turned them into motivation to continue living and surviving, that is perhaps my success story. It may not be the success story that others may seem to perceive, but it is a testament to the values I have gained from the facility. These are the accountability and responsibility that I will use to support other little 'Cherries' that I will meet along the way as I continue to journey in life," she exclaimed. ###
(75) Views