Department of Social Welfare and Development in Central Visayas continues to provide family food packs (FFPs) as augmentation support for COVID-19 response operations to local government units as well as to other national government agencies, organizations, strandees, and displaced workers.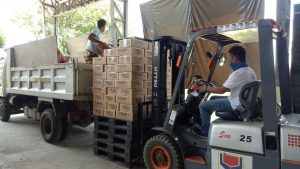 Since the beginning of the COVID-19 pandemic, DSWD-7 has released a total of 301,843 FFPs equivalent to P 136 million as of September 1.
DSWD-7 Regional Director Rebecca Geamala said that the FFPs from the DSWD is contained in a box with the agency's logo and with markings on its expiry date, that it should not be sold, and a warning that selling, buying, repackaging, and replacing of DSWD relief goods and its contents is a criminal offense under DRRM Act of 2010.
"The way how we give the FFP should be the way how it will be given to the people," Geamala said.
She added that there should be no other tags or stickers attached in the FFP.
Geamala said that FFPs are purposely given by DSWD to make sure that people, even from far-flung areas, will be served by the department through the request of the local government units.
"The purpose of giving this to the local government units is to augment the need of the people that are affected by COVID-19," said Geamala.
Meanwhile, the local chief executives through the local social welfare officer send a request to DSWD with their pullout plan and distribution plan as well as the list of names of the beneficiaries for the FFPs.
LGUs are consequently required to submit to the DSWD Regional Office, the Relief Distribution Sheet (RDS) containing names, and acknowledgment of receipt from the FFP beneficiaries.
The new FFP composition consists of 6 kilos of rice, 4 canned tuna flakes, 4 canned corned beef, 2 canned sardines, 5 sachets of coffee, and 5 sachets of cereal drink, worth P500 per pack. ###
(198) Views