Department of Social Welfare and Development (DSWD) Field Office VII Regional Director Shalaine Marie Lucero welcomed 2023 by commending the hard work of the agency's employees and it resulted in many accomplishments including the President's directives.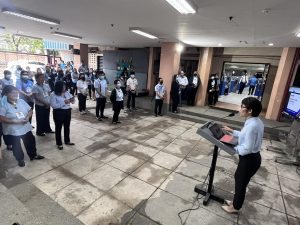 In her message during the first flag-raising ceremony at the DSWD Field Office on January 3, 2022, Lucero encouraged every employee to continue "Pagpakabana" or concern in the day-to-day operation in the office and in their respective families and communities.
"I encourage everyone to continue to adhere to the core values of the Department and level up the culture of "Pagpakabana" so that every concern can be addressed immediately," said Director Lucero.
"The previous years have been difficult due to the pandemic and we are still experiencing its effects, especially on those who are poor, vulnerable, and disadvantaged. Some may have gone through disappointments, unmet goals, and losses. For the new year, we need a new chance at life and a fresh start!," she added.
She suggested five (5) simple and doable tips to start the new year right.
New dreams – Craft exciting goals that will motivate you to work hard.
New way of thinking – Adopt a positive mindset that can overcome challenges that may come along. Enrich your mind by consistently acquiring new knowledge and skills.
New environment – Surround yourself with people who can boost your confidence and help you achieve your goals faster.
New heart – Forgive yourself. Forgive others. Set your heart free from any emotional baggage. Love more.
New strength – Deepen your spirituality by attending worship services and prayer. In the spirit lies true strength.
Source: 365 Fired Up days by Kirby S. Llaban
Director Lucero also made an earnest request for continued support and cooperation of all DSWD-7 employees in the fulfillment of the department's mandate to uplift the lives of vulnerable sectors.
"As we embark on another year of being the lead agency in social protection, let us continue to extend assistance to our partner-beneficiaries and stakeholders by strengthening our processes and procedures in the delivery of programs and services," underscored Director Lucero. ###
(47) Views