For the past 70 years, the Department of Social Welfare and Development (DSWD) has tirelessly served the poor, vulnerable, and disadvantaged sectors of the society by the agency's selfless, dedicated staff.
With that, the DSWD Field Office 7, during its 70th celebration on March 5, 2021, held in Area Vocational Rehabilitation Center (AVRC) II in Labangon, Cebu City, recognizes staff or office who excellently performed in their given tasks or duties in 2020 through its PRAISE (Program on Awards and Incentives for Service Excellence) awards. One of the highlights of the event.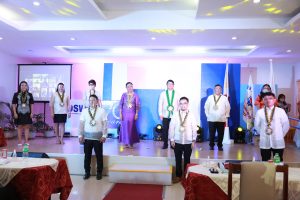 The PRAISE awardees for individual categories were: Mr. Michael M. Catada (Best Driver); Ms. Juvelyn C. Gumisad (Best MOA Worker for Technical and Admin); Mr. Julius Neil Melendres (Best Admin Support Staff); Mr. Louie Ray Villarin (Best Technical Staff for Professional); Ms. Ananisa F. Aviso (Best Social Worker for Technical); Ms. Sheila Flor Gordo (Best Social Worker for Community Based); Ms. Rosalina C. Allosada (Best Social Worker for Center-Based); Ms. Eppie N. Partosa (Best Center Head); and Assistant Regional Director for Operations Shalaine Marie S. Lucero, CESO IV (Gawad Huwaran).
The PRAISE awardees for group categories were: Capability Building Section (Best Support Office); Home for Girls (Cost Economy Measure Award); and AVRC II, who bagged two awards (Best Knowledge Management Initiatives and Best Gender and Development Corner).
Special Citations were also awarded to Regional Director Rebecca P. Geamala, DMPA and Mr. Lloyd Lyndel P. Simporios (Career and Self-Development Incentive); Standards Section (Pusong Mahusay); Disaster Response and Rehabilitation Section and Visayas Disaster Resource Center (Pusong Maagap at Mapagkalinga); Ms. Regine Imme Q. Gardoce (Pusong Magiting); and RD Rebecca P. Geamala (Gawad Kalihim).
The DSWD FO7 also received citations as National Finalist for Best SAP Implementation Mega Region and 3rd place for Best GADLENS (Gender and Development Laudable Efforts and Notable Schemes) categories.
The agency also conferred Loyalty Awards to employees who have served for 10 years or more.  Awardees for 10 years received pins; 15 years, a bronze ring; 25 years, a silver necklace; 30 years, a gold ring; and 35 years, a gold necklace as tokens of appreciation for their incomparable service to the department. Also, they received cash gifts.
The recipients for Loyalty awards were: Mr. Ezra Roel S. Archival and Ms. Lea M. Saguindang for 10 years; Ms. Brenda B. Abilo, Ms. Vilma M. Cosido, Ms. Beatriz C. Cuandot, and Ms. Cherry Ann L. Gabrinao for 15 years; Ms. Fe R. Diaz and Mr. Flaviano C. Resurrecion Jr., for 25 years; Ms. Eppie N. Partosa and Ms. Florita J. Simbajon for 30 years; RD Rebecca P. Geamala, Ms. Patricia R. Megalbio, and Ms. Mary Ann C. Pastedio for 35 years.
Furthermore, the Service Awardees for retirees were given to Ms. Nida N. Cagigas, Ms. Fe R. Diaz, Mr. Raul B. Miñoza, and Ms. Nemesia B. Tumaroy for their invaluable service in the department. ###
(78) Views