The Department of Social Welfare and Development (DSWD) Region 7 received donations from the Bureau of Customs (BOC) on October 6, 2021.
Regional Director Rebecca P. Geamala received the goods together with Assistant Regional Director for Administration Antonio R. Dolaota, Disaster Response Management Division Chief Lilibeth A. Cabiara, and Sustainable Livelihood Program Regional Coordinator Rizalina L. Patindol.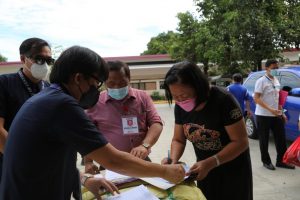 Director Geamala signed the Deed of Donation on 01 September 2021 at DSWD Field Office VII in the presence of Port of Cebu Chief of Law Division Atty. Vicente Andrew Espina and Auction and Cargo Disposal Unit (ACDU) Chief Engr. Ronald Morillo, who represented Bureau of Customs (BOC) Cebu Collector Atty. Charlito Martin R. Mendoza.
BOC Commissioner Rey Leonardo B. Guerrero directed the immediate donation of the abandoned shipment of 4 x 20-footer vans containing twine yarn, droppings, and cuttings covered by Bill of Lading No. SITGDRCB006636 to DSWD-7.
The shipment arrived at the Port of Cebu on 05 October 2019 and remained unclaimed after a year. Despite BOC's notice to the consignee and to the other interested party, the goods were not provided with necessary documents. Thus, the BOC declared it as abandoned on 08 January 2020.
As mandated by the Republic Act No. 10863, otherwise known as the 'Customs Modernization and Tariff Act,' all unclaimed goods within the specified period will be subject to disposition and may be donated to another government agency.
DSWD, an agency mandated to develop social protection and poverty reduction solutions, would use the donated fabrics to support the Sustainable Livelihood Program Associations (SLPAs) engaged in rag-making and other fabric-making livelihood activities.
The DSWD-7 has started the distribution of these fabrics to the SLPAs in the towns of Aloguinsan, Consolacion, Barili, Toledo City, and Cebu City. ###
(130) Views