The Validation and finalization phase of the Department of Social Welfare and Development's Listahanan 3 household assessment pushes through despite the pandemic. It is the 3rd cycle of the Listahanan project where the initial list of poor gathered during the data collection phase will be posted in barangay halls to give opportunity for the people to scrutinize and correct the list. As a critical part in the Listahanan household assessment to ensure that the final data of poor households is of quality and high standards.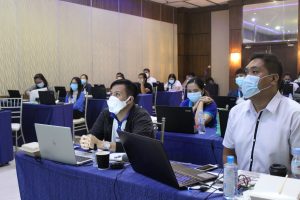 During the Training of Trainers (TOT) for Listahanan 3 validation and finalization phase in Cebu City which was facilitated by the National Household Targeting Office (NHTO) through webinar, the processes and systems use in accepting and resolving grievances were thoroughly discussed. Validation Search Application (VSA), one of the main tool in accepting and processing grievance was introduced. Participants gets a hand on experience in using this system to familiarize and be able to transfer this knowledge to the Area Supervisors who will be mainly using this system.
Regional Director Rebecca P. Geamala thanked the participants for their commitment. "Your output is very critical to the programs we have for the poor," said RD Geamala and she expects the best results from Listahanan 3.
"Please bear in mind that many stakeholders rely on the results of the Listahanan data. Let us focus on the end goal of Listahanan which is to find who and where the poor are but let us remain vigilant and follow safety protocols and take care of yourselves," said Usec. Jose Antonio R. Hernandez to the participants.
Listahanan was launched in 2009 and was mandated to update the data every 4 years as of Executive Order 867 series of 2010. ###
(1322) Views