The DSWD Field Office VII conducted the launching and signing of the Memorandum of Understanding of the Enhance Partnership Against Hunger and Poverty (EPAHP) Program on August 17, 2021.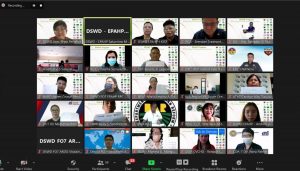 EPAHP is a Convergence Program, which aims to help mitigate hunger, ensure food and nutrition security, and reduce poverty in urban and rural communities, including marginalized communities.
Cabinet Secretary Carlo Alexie Nograles, DSWD Assistant Secretary Rhea Penaflor, DSWD EPAHP-NPMO Monitoring and Operations Officer Andrea Darlene Villanueva, DSWD-7 Regional Director Rebecca Geamala, Assistant Regional Director for Operations Shalaine Marie S. Lucero and Assistant Regional Director for Administration Antonio R. Dolaota graced the virtual activity. Some of DSWD-7 staff also attended the activity.
A total of 25 National Government Agencies represented by the regional directors, including DSWD, signed the Memorandum of Understanding to institutionalize the collaborative efforts among the agencies as one of the key strategies of the Government, in addressing critical concerns on hunger mitigation, food and nutrition security and poverty reduction.
The 24 agencies include DAR, DA, DOH, DILG, DepEd, DOST, DTI, TESDA, DICT, ATI 7, BJMPRO-VII, NIA, NDA, PCA, NFA, PCIC, LBP, DBM RO VII, NNC, POPCOM, CDA, PCC, BFAR and NAPC. ###
(111) Views