As part of its initiatives to gather the Pantawid Pamilyang Pilipino Program (4Ps) graduates, the Department of Social Welfare and Development Field Office VII (DSWD) conducted a Kamustahan for 4Ps tertiary level graduates on June 2, 2022.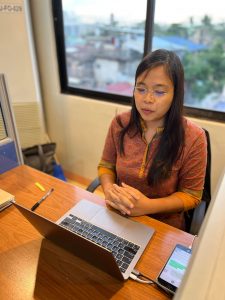 About 200 4Ps tertiary level graduates from different provinces in the Central Visayas region participated in the activity, which aimed to gather data on how many 4Ps partner-beneficiaries have finished college education.
During the online Kamustahan, Jiah Sayson, 4Ps regional program coordinator, congratulated the 4Ps graduates for finishing their education despite the various challenges in life.
She further encouraged them to inspire and motivate other 4Ps students to finish their education.
"There are other students who are struggling with their education and some even have to stop for various reasons, and the department has to do something to address this problem," said Sayson as she shared the data on non-attending school children.
Maricris Colipano from Carmen, Cebu, also shared her inspirational message during the online Kamustahan and encouraged others not to lose hope and continue to pursue their dreams in life.
Maricris emphasized the importance of education in improving the standard of living.
She recently passed her Licensure Examination for Teachers (LET) and finished as the top placer.
The online Kamustahan is the first step in forming a support group among 4Ps tertiary graduates.
"Aside from gathering data on how many 4Ps have graduated from college, we will also determine who among them already has jobs and who is still seeking employment. By doing so, we will try to link them to other partner stakeholders," added Sayson.
The DSWD will continue to coordinate with partner national government agencies like the Department of Education (DepEd) and the Department of Labor and Employment (DOLE) to address other social protection interventions for 4Ps tertiary graduates. ###
(77) Views