The Department of Social Welfare and Development in region 7 held an online poster slogan-making contest on Adoption Consciousness Celebration participated by clients and/or residents from the accredited residential care facilities (RCFs) in Central Visayas.
The contest is part of the month-long observance of the Adoption Consciousness Celebration 2021 with a theme: "Pagmamahal Palaganapin Legal na Pag-aampon Ating Gawin!"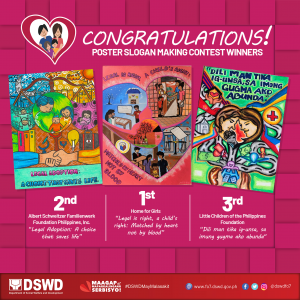 Thirteen RCFs from Cebu, Bohol, and Negros Oriental submitted their entries via email by sending the image of their poster slogan design illustration. An online announcement of winners was also conducted last February 11 along with participants and stakeholders.
The DSWD-7 held for the first time the online conduct and submission of poster slogan design entries were done online to limit physical contact from the participants and risk of COVID-19.
The Home for Girls, one of the RCFs managed by DSWD-7 in barangay Labangon, Cebu City, won first prize for their poster slogan entitled "Legal is right, a child's right: Matched by heart not by blood."
Meanwhile, Albert Schweitzer Familienwerk Foundation Philippines, Inc, in Cordova, Cebu, and Little Children of the Philippines Foundation in Dumaguete City, Negros Oriental ranked second and third, respectively.
Other participating RCFs were namely: Regional Rehabilitation Center for Youth in Argao, Cebu, Shepherd's Arms Foundation of the Philippines. Inc. in Dauis, Bohol, The Children of Cebu Foundation, Inc. (Pari-an Drop-in Center) in Cebu City, Good Shepherd Home in Liloan, Cebu, SOS Children's Village Cebu in Cebu City, CFCI Brothers Foundation, Inc. in Cebu City, Children Shelter of Cebu, Inc. in Cebu City, Arms of Love Philippines, Inc. in Cortes Bohol, Village of Hope, Inc. in Talibon, Bohol, and. Local Superior of Picolle De Cristo Re (Little Servants of the Christ the King) Inc. in Cebu City.
Each participant's artwork was judged based on their creative and unique interpretation and demonstration of the theme as well as the relevance and impact of their illustration.
The Adoption Resource and Referral Section (ARRS) exhibited the printed images of the poster slogan design at the Social Marketing Section of DSWD – Field Office 7. These were also posted online through the official Facebook page of DSWD-7. The number of likes garnered from the post was computed as part of their scores. ###
(75) Views