The Department of Social Welfare and Development Field Office VII, through its Risk Resiliency Program, delivers a total of Php 1,479,000.00 cash subsidy to 340 beneficiaries in Siquijor on November 6, 2023.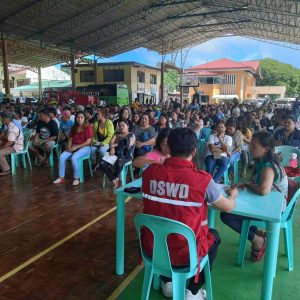 The cash subsidy followed after beneficiaries underwent cash-for-work and training activities of "Capacitating Vulnerable and Disadvantaged Siquijodnons with Incentives Aiming Towards a Disaster-Resilient Province" through creating communal gardens, watershed reforestation, livelihood training, water rescue, and basic life support training.
The project, proposed by the Province of Siquijor, aimed to enhance the resiliency of the community to natural disasters, increase its adaptive capacities through sustainable livelihood, capacitate and equip their vulnerable and disadvantaged constituents with knowledge and skills through short courses and demonstrations, and improve the overall health of watersheds.
After ten days, each beneficiary received Php 4,350.00 based on the regional wage rate.
The identified beneficiaries are individuals who are near or live in disaster-prone areas and or geographically isolated and disadvantageous areas (GIDA).
RRP is a convergence program that will operationalize the Climate Change Adaptation, Mitigation, and Disaster Risk Reduction (CCAM-DRR) Cabinet Cluster to have climate- and disaster-resilient communities. It has two modalities, namely, cash-for-work and cash-for-training that both aim to strengthen the adaptive capacities of poor, vulnerable, and disadvantaged families and communities to socio-environmental risk, which means providing them either a temporary income opportunity in exchange for community work or building their capacities for disaster mitigation and management through livelihood opportunities and skills training. ###
(68) Views