The Department of Social Welfare and Development (DSWD) Field Office VII continues to conduct a pre-adoption seminar through a webinar.
The monthly pre-adoption seminar serves as a venue to better understand the steps in legal adoption and clarify misconceptions against adopting children.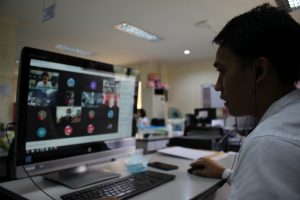 The webinar is held every last Monday of the month.
Interested prospective adoptive couples are encouraged to email the Adoption Resource and Referral Section (ARRS) at arrs.fo7@dswd.gov.ph for the online registration.
Aside from attending a pre-adoption seminar, other steps in domestic adoption include filing of the application for adoption, preparation of home study report of the prospective adoptive parents, approval of home study report, issuance of certification that the child is available for adoption, and regional matching.
Matching refers to the judicious pairing of a child with the prospective adoptive parents (PAP) and family members based on the capacity and commitment of the PAP to meet the individual needs of a particular child and the capacity of the child to benefit from the placement.
During the regional matching conference, the Child Welfare Specialist Group, composed of a lawyer, a pediatrician, a psychologist, a registered social worker, and an NGO representative deliberate, the matching of children who are legally available for adoption.
After the matching, the pre-placement of the child with the prospective adoptive parent will follow in preparation for the eventual placement.
When the placement is done, the prospective adoptive parents can now file the petition for adoption in court.
Once the court serves the certificate of finality or the adoption decree, the child can now have his or her amended birth certificate.
The prospective adoptive parents will spend for securing the required adoption documents, but DSWD adoption services are free.
From January to April 2021, DSWD Field Office VII has already matched and placed five (5) children for domestic adoption and 13 were endorsed for inter-country adoption.
Currently, there are two (2) children issued with certification declaring legally available for adoption. ###
(92) Views