The Department of Social Welfare and Development (DSWD) Field Office VII calls Pantawid Pamilyang Pilipino Program (4Ps) children-beneficiaries to join the 'Likha ng Bata, Para sa Bata.'
The contest is in line with the National Children's month celebration in November.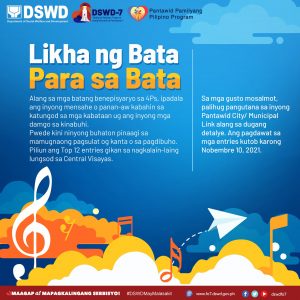 The 'Likha ng Bata, para sa Bata' aims to echo the voice of the 4Ps children-beneficiaries through their own creative expression such as to present their life experiences, capabilities, and vision.
The search is open to all to active 4Ps children-beneficiaries ages 10 to 18 years old.
The theme of the creative work will focus on children's rights, dreams, aspirations and how their life improved through the program.
For this year's conduct, the submission will be either a visual art or an original Cebuano song composition.
For the visual artwork, the submission should be in a one-fourth (1/4) white background illustration board and permitted coloring materials are oil pastel, markers, ink, acrylic watercolor, or poster paint. For the original song composition, it must be three to five minutes running time and the participant can use any kind of musical instrument.
The Field Office will post the top twelve entries on the DSWD Region VII Facebook page, and the most number of reactions, shares and comments will receive the Social Media Choice Award.
The submission of entries will be on or before November 10, 2021.
Interested 4Ps children-beneficiaries can ask their Pantawid City and Municipal Links for more details on how to join the contest. ###
(269) Views