With the impending threat of the effects of an incoming low-pressure area, the Department of Social Welfare and Development Field Office VII assures the availability of enough resources as augmentation support to local government units during disaster response operations.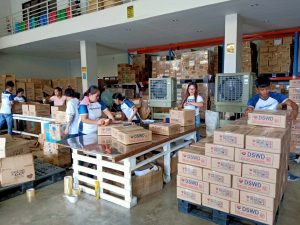 Based on the Disaster Response Operations Monitoring and Information Center (DROMIC) Preparedness for Response Report #1, as of 2:00 p.m., November 16, 2023, DSWD 7 has a total stockpile of 60,315 family food packs (FFPs) worth Php 35.8 million, Php 19 million worth of non-food items (NFIs), and Php 9.9 million worth of raw materials that can produce over 9,000 FFPs spread throughout the Regional Warehouse in Cebu City, Bohol Warehouse, and Negros Oriental Warehouse.
This includes 37,865 FFPs and 9,204 NFIs prepositioned in 62 LGUs. Below is the breakdown:
Bohol Province: 8,092 FFPs and 2,786 NFIs
Cebu Province: 13,099 FFPs and 5,374 NFIs
Negros Oriental Province: 16,326 FFPs and 848 NFIs
Siquijor Province: 348 FFPs and 196 NFIs
The goods are for relief augmentation for disaster-affected displaced families following the request of the LGU.
As of writing, DSWD-7 Disaster Response Management Division staff are completing the delivery of more goods to strategic and disaster-prone areas in northern Cebu and Negros Oriental.
The Field Office has a standby fund of Php 5 million to procure more raw materials and other supplies for response operations.
Meanwhile, DSWD Central Visayas has 121 staff trained in camp coordination and camp management (CCCM) and 2,555 trained Quick Response Team members available for deployment as needed.
Quick Response Team on Standby
Due to the recent weather disturbances, DSWD-7 Regional Director Shalaine Marie S. Lucero issued a standby mode alert to the Quick Response Team.
This issuance intensifies the office's monitoring through its LGU/field-based City and Municipal Action Team (C/MATs) and Social Welfare and Development (SWAD) Teams in different provinces in their respective Areas of Responsibility.
These staff will closely coordinate with their LGU counterparts, emergency responders, and the authorities.
DSWD Field Office 7, through its Disaster Response Management Division (DRMD), attended the Daily Weather Update relative to the looming weather conditions, actively participating in various monitoring meetings called by the Office of the Civil Defense with other RDRRMC-7 members.
Under Republic Act 10121, also known as the "Philippine Disaster Risk Reduction and Management Act of 2010", DSWD sits as the vice chair for the Disaster Response Pillar and leads in the provision of food and non-food items, camp coordination and camp management, and internally displaced persons protection. ###
(33) Views