The Area Vocational Rehabilitation Center (AVRC) II again benefited from the partnership with De La Salle-College of Saint Benilde School of Deaf Education and Applied Studies (Benilde SDEAS) through the conduct of a career orientation caravan entitled "Charting Professional Success" to the 46 active clients on March 1, 2023, at the AVRC II Multipurpose Hall.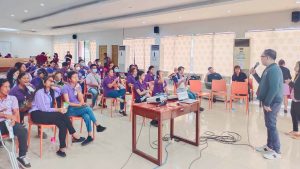 This activity is part of the Benilde SDEAS' 5-Year project, Growing Regional Opportunities of Work (Deaf GROW), in partnership with the Rochester Institute of Technology in the USA and Dong Nai University in Vietnam, and with funding support from the Nippon Foundation.
The goal of this project is to establish a career centers at the countries of operations of the implementing agencies to help the deaf secure jobs and establish their own business.
Mr. Oscar Sherlo Reyes, Director of the Center for Partnership and Development, School of Deaf Education and Applied Studies, led the Benilde SDEAS team. Ms. Florita Q. Dabon, Senior Manpower Development Officer of the AVRC II, welcomed them in the center. Mr. John Xandre Baliza, SDEAS faculty and chairperson of the Bachelor in Sign Language Interpretation, and Ms. Sarah Cañete provided the needed sign language interpretation.
The resource speakers, Mr. Raymond Manding and Mr. Bronson Escalderon emphasized the enormous potential of deaf people and all individuals, regardless of their disability. They shared the different careers that deaf individuals can pursue, such as Customer Solutions Agent, Senior Graphic Designer, Film Maker, Freelance Videographer, SPED Teacher, Doctor of Philosophy, Catechist, Research Assistant, Web Designer, Cakeshop Owner, and Credit Analyst.
The Benilde SDEAS team instilled in the participants that to realize these careers, the person has to graduate from the training and continuously work on improving their self-efficacy.
"Don't say wait or I don't know how to do it; instead, train yourself to say, I will try, I will do it," said Raymond Manding.
Through the vision board-making activity, the AVRC II clients gained varied insights and aspirations about career preparation, opportunities, and strategies to cope with their challenges. They shared their dream careers with joy and enthusiasm.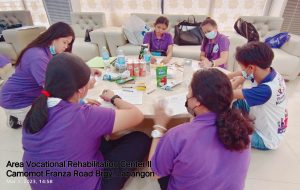 The caravan is very relevant according to the participants, and Mr. Ariel Tantiador, a Computer Systems Servicing client of AVRC II, was quoted as sharing Lao Tsu's teaching, "You give a hungry man a fish, you feed him for a day, but if you teach him how to fish, you feed him for a lifetime."
The clients also gladly received face masks and brochures about the Benilde SDEAS education programs.
The Benilde SDEAS hopes to partner with various schools and organizations in equipping future deaf talents through various capacity enhancements and collaborative linkages to assist deaf talents in securing their dream career. The AVRC II is always grateful for this partnership since it will enable the fruition of its vision of empowering persons with disabilities to become active contributors to nation-building. ###
(68) Views