To promote teamwork and tenacity through fun and enjoyment, the Department of Social Welfare and Development organized an activity called "Amazing Race" for its residents of the Home for Girls in Cebu City to culminate the month of April.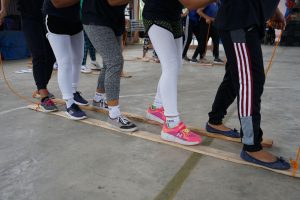 The HFG is a residential care facility managed by DSWD that provides alternative family care for those victims and survivors of different forms of abuse, violence, and exploitation.
Three groups of teenage girls who were current residents of the facility joined the race, which took place in different areas where they were greeted with different challenges.
The activity had seven obstacles, which focused on their skills and developing their character. "Sort Me, Count Me", "I am PUZZLED", "Shake 'n Rattle", Math Problem Solving, "Forward March", "Blowing Bubbles", and Human Wheel Race.
Every month, the HFG conducts relevant activities and programs that engage the residents in reflecting on values in life as well as significant events in the month.
The HFG aimed to provide residents with psychosocial support and interventions to cope with the mental, emotional, and physical damage and prepare them for reintegration with their families. ###
(11) Views