"Ang akong motivation sa kinabuhi mao ang akong pamilya. Kay og di ko molihok gutmon akong pamilya, kinahanglan gyud mag kugi, ug ubanan sa hugot nga pagtuo sa Ginoo, aron ma-kaya ra tanang pagsuway (My motivation in life is my family. If I do not do anything my family will starve. I need to strive for them. I have to trust in God for me to endure all these challenges)," shared Ritchel Catulmo, as he recalled the trials that his family encountered before the pandemic.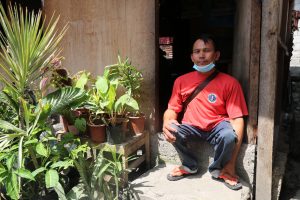 Ritchel was born with a health defect due to polio, but he did not consider it a barrier. His ways of passing the time, when he was a teenager, were playing basketball and hand painting. Now that he has a family of his own, he focuses his time on his livelihood to provide for his family. For him, having defects is not an issue to make a living. Onboard his wheelchair, he would roam around the city selling ice candies and fruits.
In 2017, he became viral on Facebook when one of the Internet users spotted him and posted him on social networks. The Internet users were surprised by his determination and hard work.
Ritchel then received this customized rickshaw from the Latter-Day Saint Charity. Since then, Ritchel has used the rickshaw "trisikad" in his business.
Ritchel has been through a lot of challenges. "Dili gyud malikayan nga sa akong kahimtang usahay mawagtangan ta og paglaum pero ako lang gyud gihugtan akong pag-tuo sa Diyos (It is inevitable in my situation that sometimes I would lose hope, but my faith in God is greater than the problems I am facing)," Ritchel recalled his lowest moment in November 2018 when his child Ellen was hospitalized due to pneumonia. He has to double his efforts in selling to support the medications for his daughter. "Perti gyud nakong lisora atong panahona (that was the most difficult moment in my life)," Ritchel said.
On January 7, 2020, a fire hit Ritchel's residence in Talisay City. Then, the COVID-19 pandemic occurred, which prompted the enforcement of the community lockdown in March 2020. Many people lost their jobs, big and small businesses were affected. Some declared bankruptcy. Ritchel was one of those who felt all the burden. Due to community lockdown, he had to stop selling fruits. The family then used the capital fund to cover the family's expenses due to the pandemic.
The Social Amelioration Program came, and Ritchel's family was one of the beneficiaries. The family utilized the assistance they received for their daily consumption. On September 8, 2020, Ritchel received the Livelihood Assistance Grant (LAG) from the Sustainable Livelihood Program (SLP). The small entrepreneurs affected by the pandemic received the LAG.
"Nagpasalamat ko nga adunay gihimong instrumento sa Ginoo nga matabangan ko, makabalik nakos akong puhonan sa pagpaninda ug prutas (I am thankful to God for using people as instruments for me to get back my capital so that I could resume my fruit selling business)," said Ritchel. When the Modified Enhanced Community Quarantine was changed to General Community Quarantine, Ritchel used the grant to resume his business and doubled his efforts selling fruits.
Ritchel considered all his obstacles as trials that would test his faith in God. He said his hard work, perseverance, and faith in God made him live his dream today. "Nakaya ni nako tanan tungod sa akong hugot nga pagtuo sa Ginoo", said Ritchell. ###
(60) Views