It was already thirteen (13) years ago when Jocelyn Pacure experienced the pain she had to endure in her life. As Jocelyn recalled that fateful day when her husband died, she was devastated and clueless on what to do next.
"Ang akong bana nga si Elmer nagtrabaho isip usa ka OFW sa Saudi Arabia aron makabuhi sa among pamilya labi na nga naa mi upat ka anak apan sakit kaayo ang iyang kalit nga pagtaliwan tungod sa nagka-heart attack man siya didto (My husband, Elmer, worked as an OFW in Saudi Arabia to raise our family. We have four children to raise. His sudden death due to heart attack was painful to bear)," recalls Jocelyn.
Many questions kept bothering Jocelyn's mind, and no one can seem to give her answers.
"Unsa akong buhaton karon? Unsaon nako pagpadako sa akong mga anak ug ngano man Ginoo kami pa? Mao kana nga mga pangutana ang nag sige balik-balik sa akong huna-huna (What will I do now? How will I raise my children? Why us, God? Those questions kept on repeating in my mind over again)," says Jocelyn.
Raising the Children Alone
Despite the hardship, Jocelyn tried her best to sustain the needs of her four children.
Her eldest child, Ethan Kate, was only eight years old; the second, Erah Shein, seven years old; the third, Jehserf Ervich, four years old; and the youngest, Eve Angel, nine months old.
Jocelyn earned income from washing her neighbors' clothes and from sewing and selling rags. Her daughters Ethan Kate and Erah Shein helped in selling rags. They sold it in the streets and in some small stores, in their town in Liloan and in the nearby Consolacion town.
Every time they could earn Php 100.00 they are already happy because they could buy food.
The family is already lucky then if they could eat three times a day. "Mohilak gyud ko sa hilom nga magtan-aw nga ang akong mga anak nitabang kanako mao nga wala ko nawad-an paglaom ug naningkamot ko nga makakita lain-laing raket (I cried silently seeing my children trying hard to help me, and that is why I did not lose hope and find ways to earn extra income)," vividly recalls Jocelyn.
Aside from selling rags, Jocelyn also cleaned other people's houses and did other odd jobs just to earn income for her family.
Every night she kept on praying, "Lord, I know you have plans for my family. Please, help us to overcome these challenges in our life. We need you, Lord, to guide us always."
As years went by, Jocelyn was happy seeing her children doing their best in school – getting awards for their academic and extracurricular activities. She came to realize that despite the hardships she needs to face in her life, her children have inspired her in many ways.
A Big Blessing
When the family became part of the Pantawid Pamilyang Pilipino Program (4Ps) of the Department of Social Welfare and Development (DSWD), it augmented the family's income through the education and health grants they received from the program.
Her group chose Jocelyn as a Parent Leader (PL).
"Isip Parent Leader nakahatag kini nako og oportunidad nga mapalambo pa ang akong kaalam ug mapaambit kini sa uban Pantawid members (Being a parent leader provides an opportunity for me to improve my knowledge and share it with other Pantawid members)," says Jocelyn.
She also added that being a Parent Leader, it enhanced her interpersonal skill and in maintaining good relationships with people because she had to deal with different kinds of behaviors of her fellow Pantawid beneficiaries.
In 2014, her eldest daughter Ethan Kate graduated from high school and asked her if she could go to college and pursue her dream to become a teacher someday.
Jocelyn replied to her, saying, "Kate, you can go to college even though we are not rich, as long as you have good grades and the perseverance to finish your course."
The family availed of the educational scholarship of the Local Government of Liloan during Kate's high school years, and Jocelyn hoped to find another one to sustain her daughter's college education.
Convinced that education is the best wealth she can give to her children, Jocelyn tried hard to look for scholarships for her daughter.
Until one day, their Pantawid Municipal Link (ML) informed them about the Expanded Student Grant-in-aid Program (ESGP-PA), a program implemented by DSWD and the Commission on Higher Education (CHED) in coordination with the State Universities and Colleges (SUCs). The program provides scholarship opportunities for children belonging to the 4Ps households.
Her daughter, Ethan Kate, applied for a slot and took the scholarship examinations. She passed all the exams and interviews. She studied Bachelor of Elementary Education major in Early Childhood Education at the Cebu Normal University (CNU).
The Present
"Dili matapos ang akong pasalamat sa mga blessings nga nadawat nako. Bisan paman sa mga pagsulay nga akong nasugatan aron lang mapadako akong mga anak (My gratitude to God is endless for all the blessings that I have received, despite facing the challenges I have to conquer, just to raise my children)," expressed Jocelyn.
As a purok president, Jocelyn is currently a volunteer in their community and at the same time a cluster leader of World Vision, a non-government organization.
She actively participated in all the community activities. Here children are also involved in doing volunteer activities. Jocelyn believes this is one way of giving back and sharing with the community the blessings that God has given to her family.
Ethan Kate graduated from the CNU in 2018. She passed the licensure exam for teachers in 2019. She now teaches in a private school.
Her second daughter Erah Shein, is a third year Bachelor of Science in Civil Engineering student at the Cebu Technological University (CTU). Jehserf Ervich, grade 12 STEM at the University of Cebu-Lapu-Lapu Mandaue Campus (UCLM).  He dreams of becoming a sailor. The youngest, Eve Angel, is a grade nine student at the Arcelo Memorial National High School.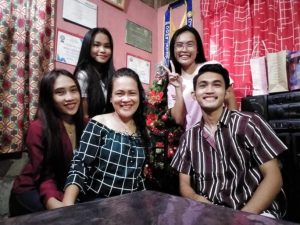 "Proud kaayo ko sa akong mga anak. Gibuhat nila ang tanan aron makab-ot ang ilang mga pangandoy sa kinabuhi (I am very proud and happy for what my children have now become. They are all doing their best to achieve their dreams)," says Jocelyn.
"Bisan kami nalang ang mag-celebrate og Pasko, amo gihapon siya gihandom nga naa ra siya permenti nga mu-guide nako ug sa among mga anak. Malipayon gihapon mi bisag dili nami kumpleto kay inubanan man namo ug pag-ampo permanente (My children and I are the ones who celebrate Christmas, but we always remember their father, and we hope that he guides us. We are happy even if we are incomplete because we always pray to God)," she added.
Jocelyn is an example of a believer. As she coped with her husband's death, it had not stopped her from believing in God. She holds on to her faith and pursues her family's dream. ###
(161) Views