A total of 6,741 families from the 15 barangays of the Municipality of Samboan participated in the Food-for-Work Program on October 18–20, 2023.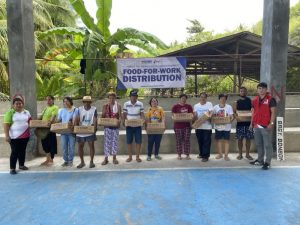 The beneficiaries conducted various disaster mitigation activities, which included tree planting of over 400 seedlings and declogging of barangay waterways such as rivers, canals, and drainages.
Each beneficiary received a Family Food Pack (FFP). The total worth of assistance released amounted to over Php 4.2 million.
The Food-for-Work Program (FFWP) aims to extend assistance to vulnerable and disadvantaged groups and families by giving FFPs and creating temporary employment while at the same time encouraging the community to participate in projects that benefit their locality.
The FFWP implementation in Samboan is made possible through the request of the local government and the close coordination and monitoring of the DSWD Field Office VII's Disaster Response Management Division.
As a short-term program of DSWD, the Food-for-Work program provides temporary employment to distressed or displaced individuals, families living in or near disaster-prone areas, or geographically isolated and disadvantaged areas by participating in or undertaking preparedness, mitigation, relief, rehabilitation, or risk reduction projects and activities in their communities.
The Disaster Response and Rehabilitation Section of the Disaster Response Management Program of the Field Office implemented the program. ###
(39) Views